After months and months of work in progress, the development team of Whatsapp officially announced the arrival of the Community and many other innovations (including the reactions) for groups within the popular messaging app.
These features, which appeared in many of the WhatsApp Beta versions, are finally ready to land on the stable version of the app: via a post on the official blog, it is the WhatsApp team itself that reveals the secrets of the Communities and other news to be released.
From the very beginning, Whatsapp has been designed and developed to offer its users a communication system that does not make them regret presence conversations with people, friends and family. Since there has been the sad advent of the pandemic, the methods of communicating at a distance have had to face many difficulties, both in terms of resources and in terms of services offered.
The WhatsApp team did not stand by and, listening to the feedback from organizations such as schools, local associations and non-profit organizations that rely on WhatsApp as a means of communication, they thought of the Communities to simplify the management of the conversation between these types. of groups.
However, rather than focusing on functionality with no limits to the number of users, Community was designed to be useful and support "groups in everyday life". The functionality is still in its initial phase and will be enriched over the years to meet the needs of users, whose feedback will always be fundamental.
In general, the WhatsApp Communities will allow users to create "groups of groups", aggregating several separate groups into a single large group, choosing the structure that suits them best. Each Community will have a description and a list of groups users can choose to join.
Users who are part of a Community will be able to receive updates sent to the entire community and create smaller discussion groups, perhaps specific to a particular topic.
Community administrators will have particular and specific tools, including the ability to send alerts to all members or only to members of some particular groups.
"In our opinion, Community will allow school principals to communicate more easily with parents by sending circulars to read and setting up groups according to specific classes, extra-curricular activities or volunteer needs.

Communities are private by nature, which is why we will continue to protect messages with end-to-end encryption. This technology has never been more necessary to safeguard the privacy and safety of users. The most close-knit groups (schools, members of a religious congregation, or even companies) want and must be able to have safe and private conversations without WhatsApp checking every word."
News also for all WhatsApp groups
WhatsApp is also about to release a whole series of improvements with regard to i groups, both internal and external to the Communities. In order for users to become familiar with the new tools for groups, they will be introduced even before the Communities.
Specifically, these are four new features, all seen in various versions of WhatsApp Betaboth for Android and for iOSand ready for release on a global scale:
Reactions
We have told you about them in all sorts of ways and it finally seems that they are officially arriving for everyone (but there is already work in progress to enrich the functionality): reactions will allow users of a group to share their opinion on a message by leaving an emoji (Like, Heart, Laughter, Surprise, Sadness and Gratitude).
Chat moderation
Group administrators will have the ability to remove messages from within the chat.
Share files up to 2GB
Although the hopes of the arrival of this feature were not too high, given that the test was limited to a few Argentine beta testers, on WhatsApp it will soon be possible to share multimedia files up to 2 GB. The target? "Encourage collaboration on projects".
Voice calls for up to 32 participants
Voice calls can be made with up to 32 participants; in addition, a redesigned graphics will be introduced.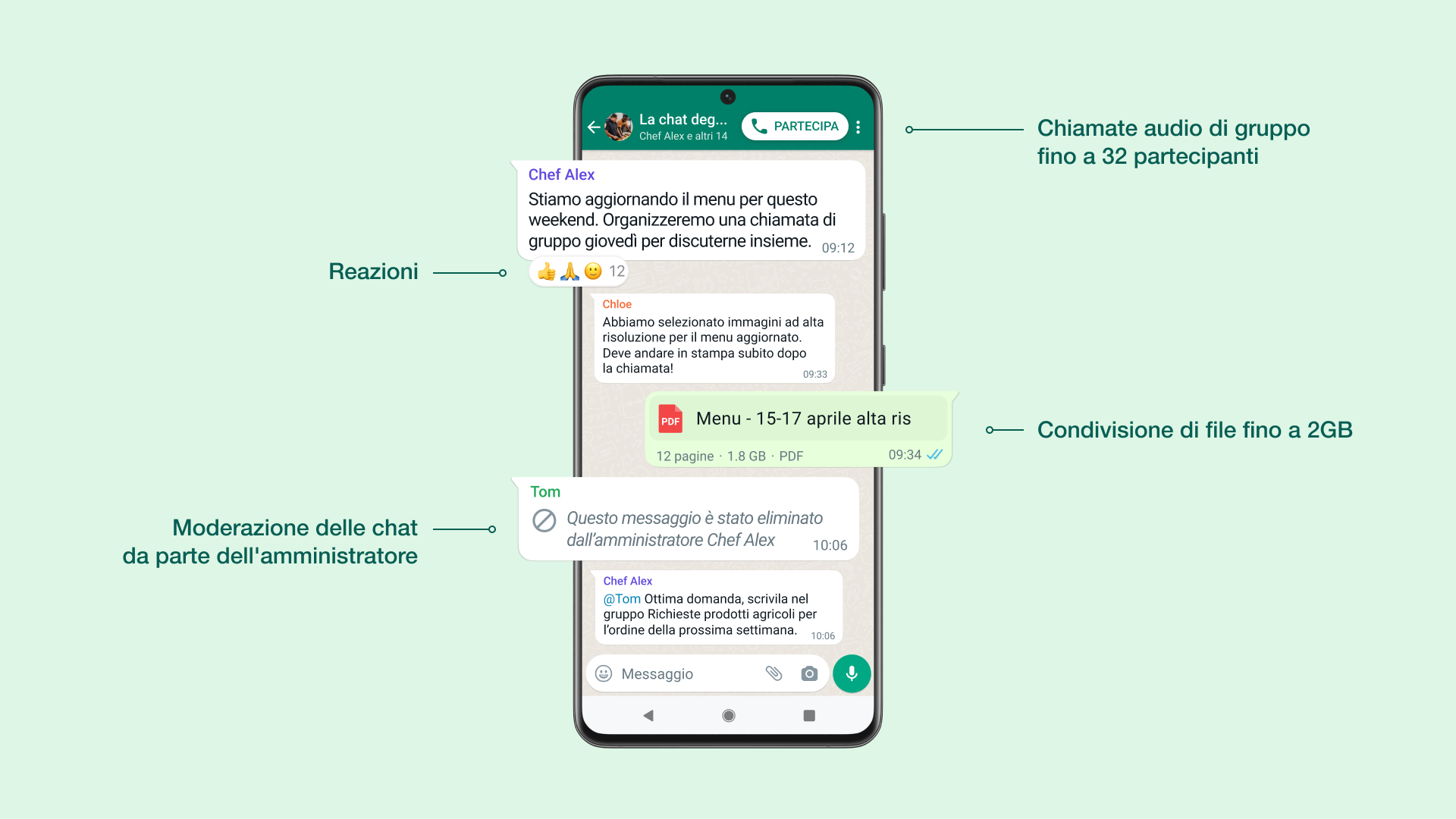 The WhatsApp team also underlined how it is essential to guarantee the privacy and security of those who use their messaging app, also and above all with the arrival of the new Communities. In fact, a whole series of tools have been introduced, for administrators and users, in order to always guarantee a high level of security and privacy, to reduce disinformation and incorrect and unpleasant behavior.
Tools for administrators
In addition to what has already been said above, administrators will be able to exclude groups or individual users from a Community, as well as delete inappropriate messages or content. To do this, they will have specific resources at their disposal.
User tools
Users will also be able to do their part, reporting improper use, blocking unwanted accounts or voluntarily abandoning a particular Community. In addition, the "who can add me to groups" setting will also be extended to the Communities.
Various limits for communities
WhatsApp is not a social media and it will not be possible to search for new Communities. In order to avoid chaos and overloads, the general notice board of the Community will be viewable by all but only administrators will be able to interact with it and publish contents. Users will be able to chat in smaller groups which, however, will need to be created or approved by the administrators.
Limit the forwarding of messages against disinformation
Confidentiality of conversations and the fight against disinformation are very important. For this purpose, message forwarding is restricted: messages that have already been forwarded can only be sent to one group at a time, unlike the five groups to which they can currently be forwarded.
End-to-end encryption and phone number privacy
All messages within the Communities will also be protected by end-to-end encryption. In addition, the phone number of the members of a community will always be hidden: it will only be visible to the administrators and participants of the groups they belong to.
Interventions against offensive communities
In the case of Communities that engage in illegal activities, such as the dissemination of child pornography or the coordination of violent actions, WhatsApp will block all members or administrators of the Community.
For more information, please consult the dedicated post on the official WhatsApp blog.
How to update WhatsApp
In order not to risk missing out on the latest features officially released by the team of Whatsappplease check that you have installed the latest version of the app available directly from Google Play Storeby clicking on the badge below.
If, on the other hand, you are eager to try the preview news proposed by WhatsApp Beta for Androidyou can proceed by subscribing to the Beta Program (you can find the page dedicated to the program by following this link). If the Beta Program is temporarily full, you can proceed with the manual installation of the related APK files, which can be downloaded from the portal APK Mirror (whose dedicated page can be reached by following this link).
You may also be interested in: Our WhatsApp guides