The development team of Whatsapp has started the release for everyone, beta testers and users of the stable channel, of a novelty concerning ephemeral messages and, more specifically, the multimedia files connected to them. Let's find out what it is.
WhatsApp: there is a novelty connected to ephemeral messages
WhatsApp is working to improve the functionality of ephemeral messages, or those messages that disappear after a certain period of time preset within the application or a particular chat.
Although there is work in progress to allow users to to save from the automatic deletion of some important messages in the chats with the option of ephemeral messages activated, brought to light by the version 2.22.7.4 of WhatsApp Beta, today comes a novelty being released for everyone.
The novelty concerns the visibility of multimedia files in the phone gallery for those chats that have the functionality of ephemeral messages enabled. This small change had already manifested itself to beta testers in the version 2.22.4.14 of WhatsApp Beta.
WhatsApp now automatically deactivates the media visibility (on Android) and the save to camera roll (on iOS) for chats with the option for ephemeral messages enabled; in this way, the multimedia files of the chats with ephemeral messages will not be automatically saved in the gallery. However, you can manually save the media files.
You can see the message with which the messaging app notifies users of this news, both on Android and on iOS, through the following images.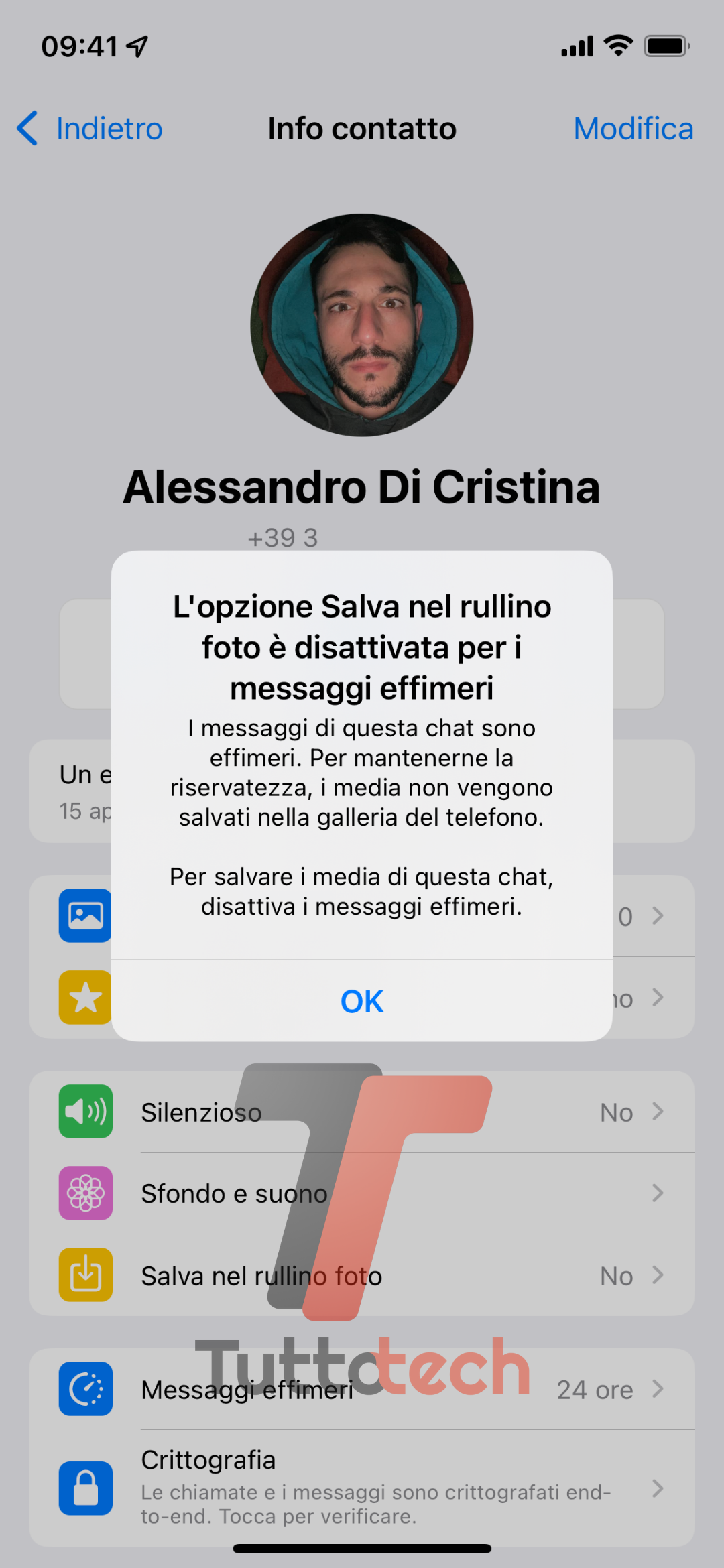 This new mechanism for managing multimedia files linked to ephemeral messages has been adopted to further improve the speeches related to privacy.
The news, as anticipated, is being released gradually for all WhatsApp users, both for Android and for iOS, which could receive it in the next 24 hours. Our advice is, however, to check that the latest version of the application is installed on your smartphone.
How to update WhatsApp
In order not to miss the latest features officially released by the team of Whatsappplease check that you have installed the latest version available directly from Google Play Storeby clicking on the badge below.
If, on the other hand, you are eager to try the preview news proposed by WhatsApp Beta for Androidyou can proceed by subscribing to the Beta Program (you can find the page dedicated to the program by following this link). If the Beta Program is temporarily full, you can proceed with the manual installation of the related APK files, which can be downloaded from the portal APK Mirror (whose dedicated page can be reached by following this link).
You may also be interested in: Our WhatsApp guides