System applications pre-installed on smartphones are not always able to offer a truly complete user experience and with this article we are going to list the 5 best Android applications to use for editing videos on smartphones.
The ones we will talk about as we continue reading are free basic while others offer the possibility to purchase versions pro (for a fee) in order to take full advantage of all the features.
Best video editing apps on Android
Video editor
The first app we recommend you download and try is Video editor, totally free and that allows you to edit videos working with the basic parameters and make some effects to make the videos dynamic.
Its strong point is the ability to add text with many interesting options such as animation, font, apply templates, change the color, the stroke, the background and the shadow on the writings. Also you can enter stickers and stickers always being assembled through an integrated free package. However, there is no lack of settings to resize the video or improve its brightness, contrast and saturation.
As for the watermark, unfortunately it is present after the rendering of the video and this could be an unpleasant aspect but that can be solved with alternative solutions.
Video editor is especially useful for video clips to be published on social networks in which the text and phrases we insert are the protagonists.
CapCut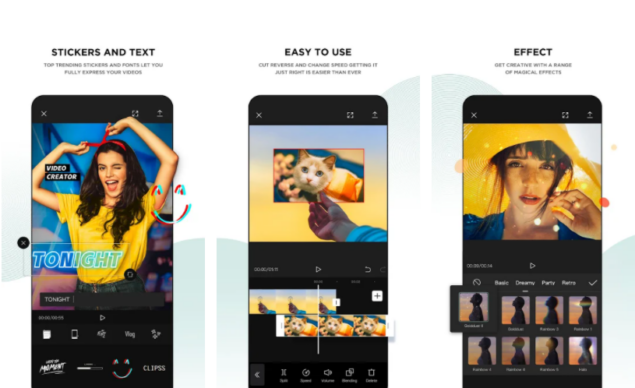 The next editing app we recommend you try is CapCut totally free and unlike the previous app it has no watermark after exporting the video which is a big plus.
In broad terms it is the classic editing application in which we will have all the options that can be changed during the editing phase, in fact whatever you want to do, such as a transaction, a clip overlay or an image adjustment, with CapCut we can do it.
All that glitters is not gold because the effects are very basic, nothing professional but, due to its essentiality, it can be useful for those who are familiar with video editing to get a result. basic and not too excellent.
KineMaster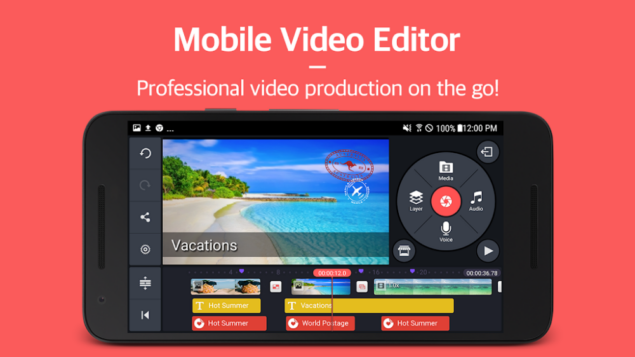 Now let's move on to KineMaster, another free video editing app that allows you to add captions to videos. IS downloadable from the Play Store for free but if you want you can upgrade to the Premium version at a cost of € 28.46 / year, to unlock some additional features, such as the removal of the watermark that we will have after exporting the edited video.
The aspect we like most about this app is the interface because compared to other apps, which allow you to edit only with the vertical smartphone, with this one we only work with the horizontal smartphone which makes it more similar to editing from a tablet. or pc.
Clearly, here too we can change everything to our liking transitions, effects, text, format, cutouts, etc … and if you are used to editing from a tablet or PC and are looking for something similar on a smartphone, KineMaster is for you.
Weather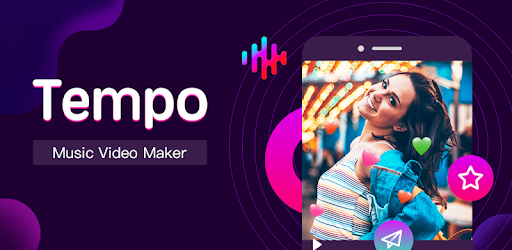 Penultimate application that we propose is Weather which always remains an app for video editing but is especially specific for music videos where the rhythm is highlighted.
The application is equipped with many effects with attention to detail and very captivating that give rhythm and dynamism to the videos we upload. There are several templates that allow you to apply pre-set effects on the clips we are going to insert and a wide variety of music to choose from.
In our opinion it is one of the best music video editors that there are on the Play Store because in addition to being simple to use, so it is also great for beginners, the quality of the effects, animations and transitions is very high which comes very close to one. professional style.
Unfortunately there are only 3 days of trial available to use the app but if you are satisfied there is the premium version that in addition to unlocking the pro effects, also removes the watermark after rendering the video and all at a cost of € 6.99 per month.
Videap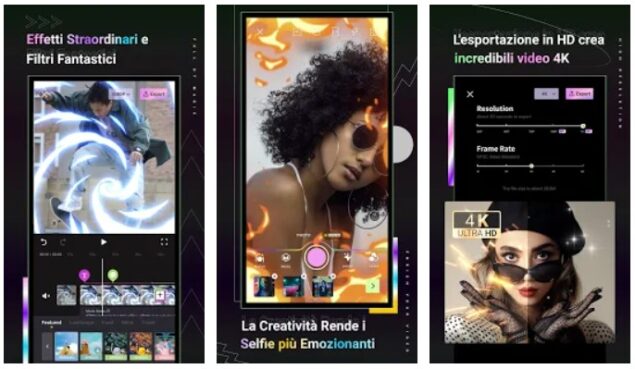 As a last application here is the most emerging of this category and it is about Videap, released on January 23, 2021 on the free basic Play Store and this also has the possibility of upgrading to a premium version at a cost of € 4.19 per month.
Here, in addition to editing the videos, it is also possible to record them directly from the app that we recommend you use only to take advantage of the effects that are available to us because some are really nice and well done. As for the editing instead we return to a vertical use only but the interface is simple to use and manage in fact the icons are intuitive and the editing on the timeline is not too complicated.
Keeping in mind the release date there is a good starting point at a graphic level but what is missing now is the ability to customize and modify many more settings within the timeline even if the main tools are not lacking.
So if you are interested in this application you can take advantage of the 3-day free trial in which we will still be able to export our works without watermark, obtaining the clean video without overlaying.