System applications pre-installed on smartphones are not always able to offer a truly complete user experience and with this article we are going to list the 5 best Android applications to use to edit your photos from Mobile.
The ones we will talk about as we continue reading are free basic while others offer the possibility to purchase versions pro (for a fee) in order to take full advantage of all the features. In particular, we will propose the 4 that we consider best and the emerging one, to keep an eye on for its potential.
Best photo editing apps on Android
1. Lightroom
Let's start immediately with the first app called Lightroom, developed by Adobe and that many of you will surely know. Basically it is free but you can upgrade to the version premium to unlock more tools suitable for professionals.
By opening the app you can access the collections, where you can sort the libraries in the way you deem most appropriate. Once you have added the photos from the various paths available on your smartphone, you can open the collection and access the editing of the single photo. Here we open the tools to quickly correct parameters such as exposure, color temperature and many other adjustments, reserved until recently only for professionals.
Also you can the option to apply even faster than the preset designed by professionals, who transform a dull photograph in a few seconds into a captivating and correctly balanced shot.
2. Snapseed
Now let's move on to Snapseed, a completely free application that allows us to take advantage of a lot of tools, even advanced ones, to perfect the photos in the best way. We have talked about it extensively in the past.
Snapseed, over the years, has improved so much that it has become one of the best performing apps as a smartphone photo editing tool, suitable for both novice users, thanks to the ability to apply pre-set filters, and the more savvy ones. , which can play with more advanced tools, and even professional uses, thanks to the support for Raw format files and the development of shots in ways not too dissimilar to those offered by advanced desktop software.
In fact, here are some tools that allow this free app to differentiate itself from other photo editor apps such as "Selective editing", "Correction", "Retrolux", "Posa Testa". The application interface is simple in fact we can find everything about effects and tools and finally the export button that allows us to share the edited photo directly on social media or save it on the device.
3. Polish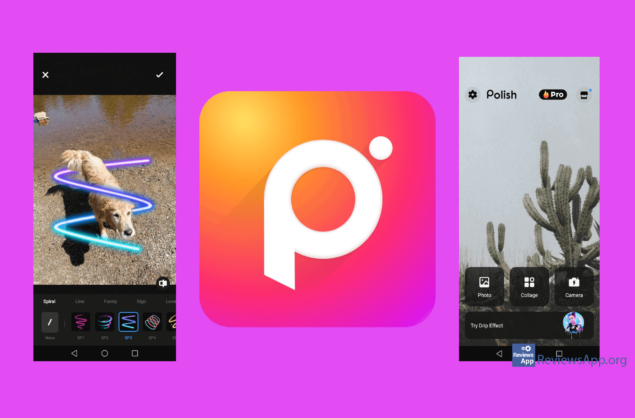 Next application for photo editing is Polish than to include a free 7-day version and then pay € 8.99 per year or, to have the app with you forever, spend € 17.99 at once. With the pro version we remove advertising, you can access more functions and finally take advantage of the new filters and effects that are uploaded every week by the developers.
From the main interface We can select a photo to start editing, start working on a collage or use the change background option to automatically cut out the foreground subject of the photo we have chosen.
After choosing the photo to be modified as well as correcting it in the various options such as brightness, contrast, shadows, light and we will also have effects to be applied over the photos such as: neon stripes, vignette, sketch, movement and overlay, with templates already prepared to be downloaded and applied.
4. Pixlr
This app is produced by a computer graphics giant that is Autodesk. It is called Pixlr and we have included it in this episode because it is really intuitive and complete.
It allows you to create elegant compositions by combining different images, text and even tools for automatic post production of the shots. The aspect that we particularly like is the graphical setting of the app because it looks good, nice animations in switching from one screen to another, which has an important impact in terms of quality in the smallest details and this is a guarantee. that the developers work on it continuously to give new ones feature useful to users.
Also in this case the application is free with some additional paid content.
5. PixArt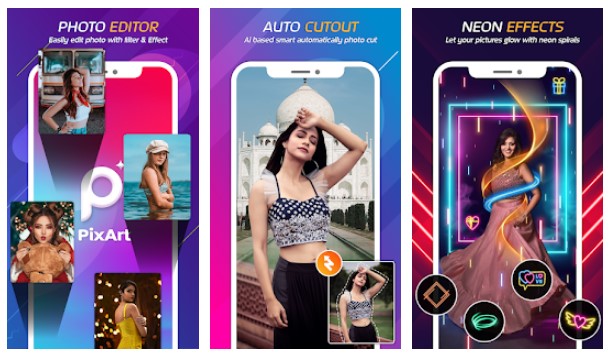 As we did for the last episode, the latest app we offer is the most emerging and for edit photos from smartphone we suggest Pixart officially released on the Play Store on March 4, 2021 and available for free for any Android smartphone.
The main difference of this application compared to all those mentioned above is that the presets and templates, which are present, have a high level quality such as those in the category called "Smoke Art 3D", "Neon World", "Fire "And many other categories that allow you to indulge yourself in the choice.
Besides preset and collage of images you can edit individual images using the classic editing tools with many possibilities of customization through overlay, that fit most of the photo situations we will find ourselves in. The application is also ready to receive new features that will be implemented in the coming weeks and all the more reason we recommend that you download it and try it on your device.
If you know other apps that you think deserve to be considered among the best photo editing apps, report them in the comments!