You want to know what the best android tv boxes available on the market? Do you have a smart TV but want something more advanced that allows you to make your TV more modern without having to change it?
You have come to the right place. In our guide to the best android tv boxes updated in the month of December 2021, you will find not only the best available on the market, constantly updated, but also some clarifications and advice to make an informed choice.
We will explain how to check if your TV can accommodate an Android TV box, what are the TV box certified by Netflix and, not least, what are the android tv box with DVB-T2 (when switching to DVB-T2 region by region), the new standard for digital terrestrial to replace the first generation.
What to check
Whether you have a more or less recent smart TV or an old flat screen TV, there are some requirements to consider to be sure you can use the new TV box. But then, what to check before buying an android tv box?
We deliberately talked about smart TVs or flat-screen TVs because the first requirement is the presence of an HDMI port, absent on old CRT TVs. While it is possible, using various converters and adapters, to connect an HDMI cable to an old TV, the results will undoubtedly be disappointing, especially due to the inadequate resolution.
Therefore, it is better to avoid costs and headaches and use the TV box only on a TV equipped with an HDMI port, even better if it is equipped with a 4K panel that allows you to enjoy the many contents available to the fullest. Even a FullHD TV will still allow you to make the most of most of the current streaming services.
No less important is the presence of an Internet connection in the house, wired or through a WiFi router. Obviously in the first case you will have to make sure you have the router near the TV, otherwise you will have to get a fairly long Ethernet cable. However, it is better to have a WiFi connection and check that the signal level is high enough to ensure adequate transmission speed.
It seems obvious but make sure you have a power outlet to connect the new Android TV box to: it would be a shame to remove it from the package, make all the connections and realize that you do not have a free space in the power strip or in an outlet adjacent to the TV.
The question "What to check before buying an Android TV box" is not just about what you have at home, but also about a couple of features of the box. If you plan to connect one or more external drives, in which you have your multimedia contents, make sure that the tv box has one or more USB ports. If only one port is available, it is a good idea to have a USB hub, with at least 4 ports, to have some flexibility in connecting hard drives or USB sticks.
If you intend to connect the TV box to an audio system, whether it is a home stereo, a simpler soundbar or a Home Theater system, check for an audio output, preferably digital to guarantee excellent quality. of course you can leave everything to your TV, but if you intend to use an audio system only when watching some content, this is something to check.
Android TV or simple Android
So far we have talked in a generic way about Android TV boxes but there is an important distinction to make. There are boxes with Android TV, therefore optimized for viewing on home TV, and boxes with the standard version of Android, the one we normally find on our smartphones. What are the differences between the two variants?
Android TV can count on an interface designed specifically for use on a TV, as the name obviously implies. In the customized version of the Play Store there are applications developed specifically for TVs, customers of most streaming services, games and much more. It should also be mentioned that if you want a Netflix certified tv box, you will necessarily have to fall back on a model with Android TV, and the choice is very limited.
TV boxes with Android usually use a very spartan launcher, with a block interface designed to simplify the start of various applications. In most cases, however, these are not native applications, but rather simple ones wrapper to the website. Starting, for example, Netflix you will not find the dedicated interface but the web one, definitely difficult to navigate with the remote control usually supplied.
For this you should consider the idea of ​​buying a Bluetooth keyboard, easier to configure, preferably with a mouse or touchpad to move more quickly through the menus or in the interface of the various applications.
The best Android TV boxes
After this wide introduction, necessary to make a minimum of clarity and to be able to orient oneself in a conscious way within a very varied market, let's see which are the best proposals on the market. For your convenience we have selected android tv box sold on amazon, which among online sellers offers one of the best pre and post sales assistance services.
Obviously you can find many others also on eBay or other online stores, but remember to pay attention to the origin, a very important element to take into consideration in case you need to use the warranty service.
Tv box with Android TV
There are very few TV boxes that use Android TV, the special version of the green robot designed specifically for use on home screens or via video projectors. So let's find out which are the best.
NVIDIA SHIELD TV
It is undoubtedly the best TV box on the market, equipped with Android TV 9.0. In the Pro variant we find a Tegra X1 processor with 256-core GPU and 3 GB of RAM and 16 GB of internal memory. In addition to dual band WiFi and Bluetooth 5.0 we find two USB ports, HDMI 2.0 and Gigabit Ethernet.
The basic version has 2 GB of RAM and 8 GB of internal memory, resumes the same connectivity as the Pro variant but without USB ports. There is a microSD slot and to further expand the memory you need to resort to network archives.
Find out the lowest price on Amazon of the Pro version And of the basic version
Xiaomi Mi Box S

It is the newest of the Android TV boxes made by Xiaomi and uses a quad core ARM Cortex-A53 CPU, Mali-450 GPU with 2 GB of RAM and 8 GB of internal memory. It has Android TV 9.0, dual band WiFi, Bluetooth 4.2, a USB 2 connector and an HDMI 2.0a connector.
The remote control is included in the sales package.
Find out the lowest price on Amazon
Minix Neo T5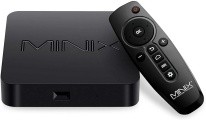 Minix Neo T5 it is one of the very few tv boxes with Android TV and we would like to point it out for completeness of information. It features a Cortex-A53 quad core CPU with Mali-G31 GPU, 2GB of RAM and 16GB of internal storage, dual band WiFi, Bluetooth 4.2 and 2 USB ports. Too bad, however, that it does not have Netflix certification, so you can (using external apk files) use it only in SD. Instead, it is almost perfect for all other uses, including the media center function using Kodi.
Find out the lowest price on Amazon
TV box with Android
In this section we have grouped the TV boxes with "normal" Android, therefore without optimizations for the TV or for the big screen. You will find the Play Store to install numerous applications but nothing to do for Netflix, which you can only see in low definition, or for other streaming services. However, if you are looking for a box to play or to watch your content through a media center like Kodi, these are the ideal solutions, thanks to very low costs.
T95 Max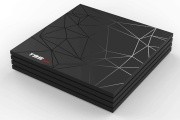 Compared to the previous version, the T95 Max box can count on an H6 chipset with A53 quad core CPU and Mali-T720 MP @ GPU, flanked by 4 GB of RAM and 64 GB of internal memory.
2.4 GHz WiFi and Ethernet connectivity, optical output, AV, HDMI 2.0, 2 USB ports, microSD slot and Android 9. It's perfect to get started, it costs very little and guarantees playback of up to 6K content.
Find out the lowest price on Amazon
Bqeel B1 Max

This Bqeel B1 Max is one of the rare TV boxes with Android 10 and Alice UX interface. It has the H6 CPU with Mali G31 MP2 GPU, 4 GB of RAM and 64 GB of internal memory. Rich connectivity, with dual band WiFi, Bluetooth, Ethernet, HDMI 2.1, two USB 2 ports and 1 USB 3 port.
Support 8K playback, H.265 decoding and HDMI CEC.
Find out the lowest price on Amazon
Beelink GT-King Pro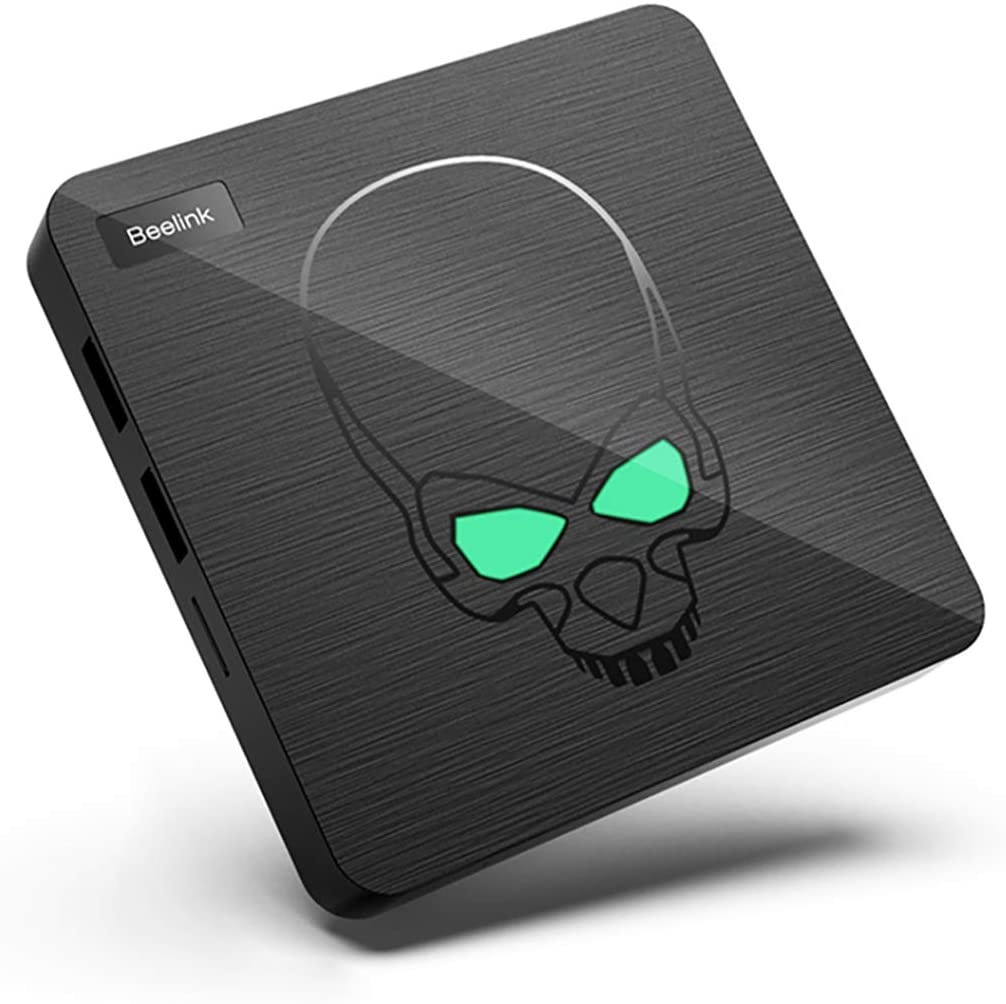 From a technical point of view it is the most powerful of this section, thanks to the Amlogic S922X chipset with hexa core CPU (2 A73 + 4 A53), Mali-G52 MP4 GPU, 4 GB of RAM and 64 GB of internal memory.
Two USB ports, 2 HDMI ports, Giga Ethernet, headphone socket, microSD slot, plus dual band WiFi, Bluetooth and HiFi audio, Dolby Audio and DTS Listen.
It supports a maximum resolution of 4K x 2K at 60 frames, remote control with voice commands and an adequate cooling system. Find out the best price on Amazon.
Android TV box with DVB-T2
We close the review of the best Android TV boxes with one of the few devices equipped with DVB-T2 receiver. As you know, starting from 2021 there will be a new change and it will be necessary to have a TV with a receiver adapted to the new standard. If you are thinking of an Android TV box, you can buy a variant equipped with the receiver for digital terrestrial, keeping your current TV.
Magicsee C500 Pro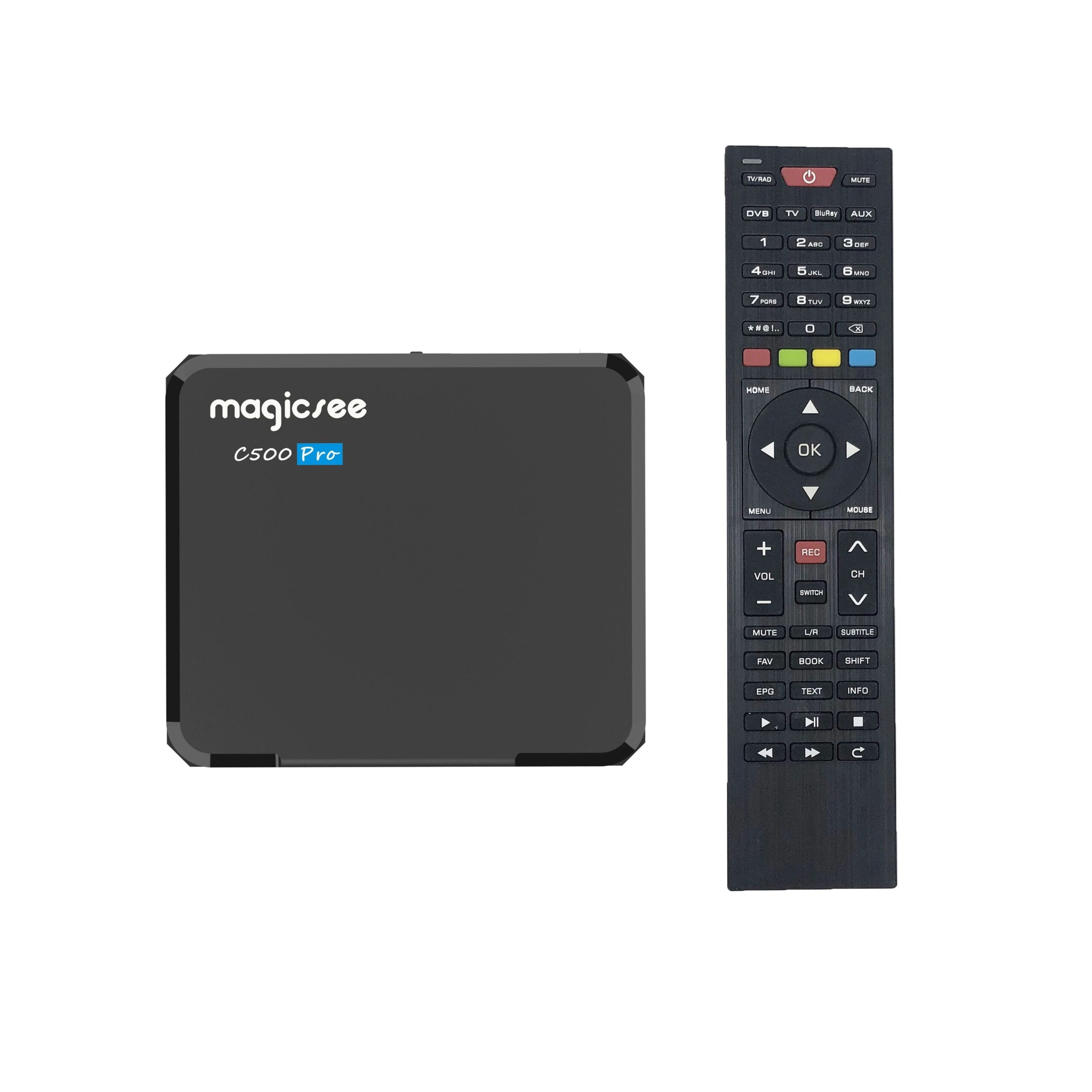 Magicsee C500 Pro it is well equipped from the hardware point of view, starting with the quad core Amlogic S905X3 CPU with Mali-G31 MP2 GPU, 4 GB of RAM and 32 GB of internal memory. In addition to the DBV-T2 decoder we also have the S2 variant for satellite TV and is able to manage streams in the H.265 codec.
Present 2 USB ports, optical and HDMI output, as well as a microSD slot. The operating system is Android 9.0 Pie. Find out the lowest price at Banggood.
So this was our ranking of best android tv boxes updated in the month of December 2021. Be sure to check it back because we will update it regularly with the news introduced on the market.