TCL honors the beginning of the Mobile World Congress 2022 announcing a large number of new devices, including the Android smartphones of the new series TCL 30intended for the European market.
Here are the words of Aaron ZhangCEO of TCL Communication, on the presentation of new products al MWC 2022:
"The expansion of the TCL 30 series shows our commitment to democratize technology, so that more people have access to reliable, innovative and high-performance smartphones. The TCL 30 Series portfolio reflects our way of giving consumers around the world the freedom to showcase their unique style, through feature-rich technologies and connected experiences, inspiring them to get the most out of life. "
TCL announces TCL 30 series smartphones
TCL announced 5 smartphones at MWC: let's talk about TCL 30 5G, TCL 30+, TCL 30, TCL 30 SE And TCL 30 E. As you can guess from the names chosen, only one will have 5G connectivity, while the others will be equipped with 4G connectivity.
All smartphones in the series TCL 30 they are equipped with a triple camera equipped with artificial intelligence with a 50 MP main sensor with an aperture of f / 1.85, except for the TCL 30 E which will have a dual camera but will still maintain the 50 MP main sensor; to cater for selfie lovers, TCL 30 5G and TCL 30+ are equipped with an ultra-wide-angle front camera.
With the TCL 30 series, the Chinese brand wants to wink at social media enthusiasts, providing ad hoc features to improve photographic skills, allowing you to take any type of shot such as, for example, Steady Snap which allows you to "stop" time to capture moving subjects clearly; thanks to the presence of artificial intelligence and HDR support, the camera will be able to detect up to 22 different scenes to optimize shooting, even in low light conditions.
The new TCL 30 5G, the only one with 5G technology
The top device of the series TCL 30 is definitely the TCL 30 5Gcapable of offering the 5G technology for € 249. However, it does not end here.
In addition to 5G connectivity and the photographic sector, which we talked about previously, TCL 30 5G has is equipped with a large 6.7 "AMOLED display with FullHD + resolution and is powered by the processor Dimensity 700 by MediaTek.
On board we also find a 5010 mAh battery with support for fast charging at 18W: all contained in a thickness of 7.74 mm and a weight of 184 grams.
The other members of the new TCL 30 series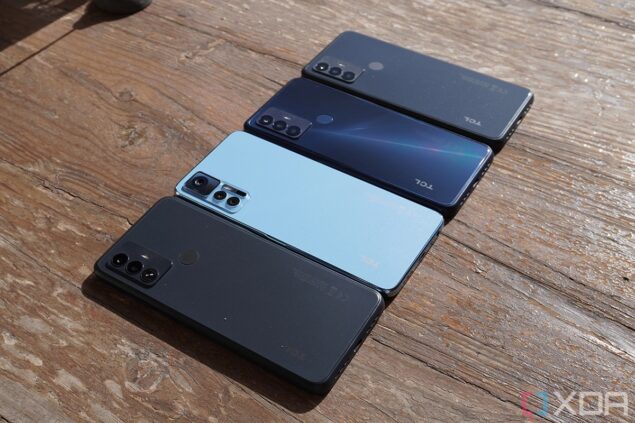 Moving on to smartphones that do not support 5G connectivity but stop at 4G, the most performing of the four remaining smartphones are TCL 30+ And TCL 30, which share many of the specifications with TCL 30 5Gsuch as cameras, displays, battery and dimensions.
Although TCL 30 SE shares the photographic sector with the "older brothers", some characteristics put him on the same level as the TCL 30 E: all this, starting from the 6.52 "HD +" only "display. TCL 30 SE And TCL 30 Ewhich will have up to 128 GB of internal memory, will then be equipped with a 5000 mAh battery.
Below, here's a summary of the TCL 30 Plus, TCL 30 And TCL 30 SE.
Availability and prices of the new smartphones of the TCL 30 series
TCL 30+, TCL 30 And TCL 30 SE are available immediately in Europe while TCL 30 5G And TCL 30 E will arrive in April. Below are the prices and colors:
TCL 30 5G

Price starting from € 249
Colors: Dreamy Blue and Tech Black

TCL 30+

Price starting from € 199
Colors: Muse Blue and Tech Black

TCL 30

Price starting from € 179
Colors: Muse Blue, Tech Black

TCL 30 SE

Price starting from € 149
Colors: Space Gray, Atlantic Blue and Glacial Blue

TCL 30 E

Price starting from € 139
Colors: Space Gray and Atlantic Blue
The above prices may vary by market. What do you think of these new smartphones from TLC? Let us know in the comment box!
You may also be interested in: Best cheap Android smartphones: February 2022 ranking