TAG Heuer Connected Caliber E4 it's official: it's the fourth generation of luxury smartwatch with Wear OS software on board, improved from all points of view. Despite the high selling price, under the body we find a hardware equipment comparable to that of other products on the market, but which represents a decisive step forward compared to the previous generation of TAG Heuer smartwatches.
Improved performance and autonomy
The Connected Caliber E4 line features two models, one with 42 mm case and the "classic" model with 45 mm case: both feature a traditional design, with a glass made of sapphire crystal to protect the 1.39 "OLED display with a resolution of 454 x 454 pixels, but the smaller model has thinner lines and frames that stand out less than its bigger brother, also equipped with a wider and more pronounced crown. The most important improvements, however, are under the hood, starting with the processor upgrade, now one Snapdragon 4100 Plus – the same as Fossil Gen 6. The top-of-the-range proposal from Qualcomm does not differ too much from the "smooth" Snapdragon 4100 variant equipped on other devices, except for the presence of a always-on low-power co-processor.
Speaking of consumption, the 430 mAh battery it recharges in 90 minutes and allows an autonomy of a whole day, including a 1 hour or 5 hour golf session. Also thanks to the Wear OS 2 software, compatible with Android 6.0 devices / iOS 12.0 and later versions of the software. Connected Caliber E4 will not arrive immediately with Wear OS 3, born from the collaboration between Google and Samsung, but the company is committed to making it available as a free update "as soon as possible".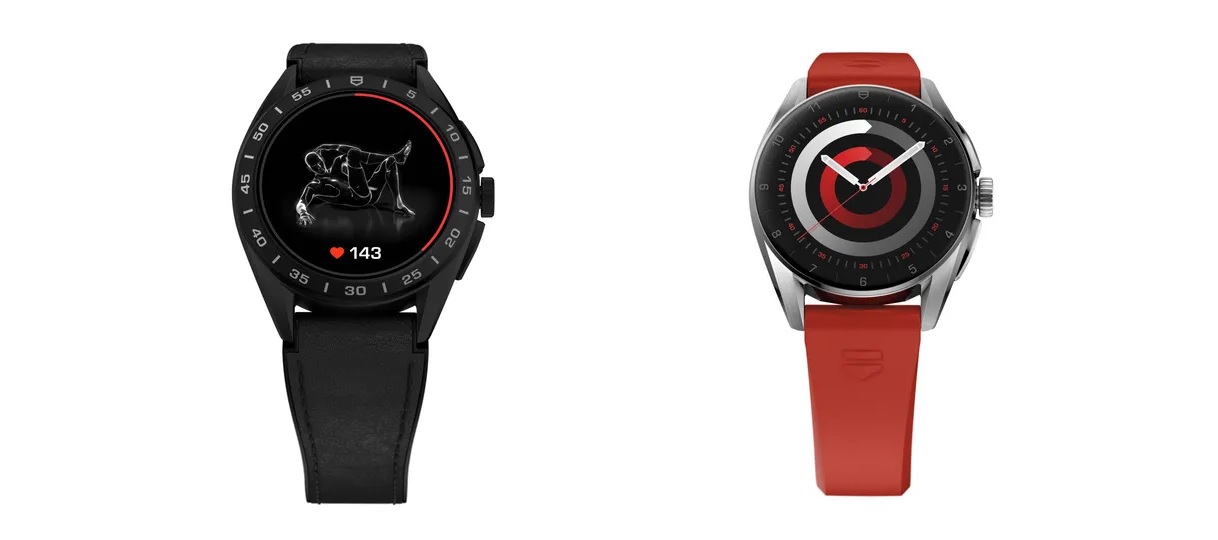 The Connected Caliber E4 smartwatch has three apps pre-installed and curated by the company: TAG Heuer Wellness, TAG Heuer Golf, and TAG Heuer Sports. Within these apps you can find dedicated workouts that do not need a connection to be used, and the software interface allows you to choose custom watchfaces that integrate more data from fitness, weather and sports activities. Speaking of sport, among the sensors we find heart rate monitor, compass, accelerometer, gyroscopeNFC and microphone; for connectivity instead there is the Wi-Fi connection and Bluetooth 5.0 to communicate with accessories and the phone.
Sale price and availability
TAG Heuer Connected Caliber E4 is a luxury smartwatch: not so much for the components or materials used, but for the brand it is associated with, so the price to pay is much higher than what a home Android smartwatch could be. Samsung or Fossil. The list prices on the TAG Heuer website for the entire collection are as follows:
model with 42 mm steel case and black rubber strap – 1,700 euros;
model with 42 mm steel case and black leather strap – 1,800 euros;
model with 42 mm steel case and steel bracelet – 1,900 euros;
model with 45 mm steel case and black rubber strap – € 1,950;
model with 45 mm steel case and steel strap – 2,150 euros;
model with 45 mm titanium case and black rubber strap – 2,400 euros.
The Connected Caliber E4 smartwatch is bookable at this addresswith shipments starting March 8, 2022.
It may interest you: Best smartwatches with and without Wear OS | February 2022