What happens if you are the victim of the error " DNS Server Unavailable "? There is nothing you can do but shut down your computer. Don't get depressed and solve this problem by using one of the solutions given below.
All the solutions detailed below have been tested and work well. You can follow any method to get rid of this problem.
---
Error analysis "DNS Server Unavailable"
---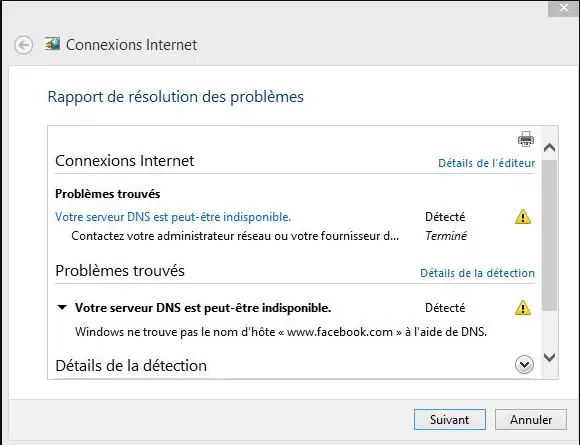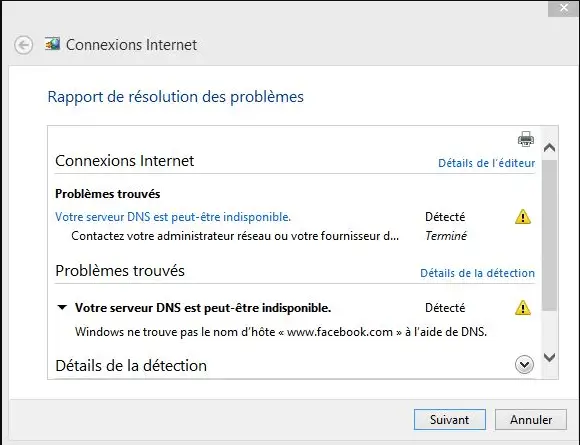 You have to analyze the error in order to determine the problem. For this you must first change your browser.
If you try to open some web pages in Google Chrome, you must try to open the same pages in a another browser. If the problem persists, it means that you need to take other steps to resolve it.
Another step to perform is to connect another device with your Internet connection. It will just show you if there is no a hardware problem.
You should also try to connect your device using another internet connection in order to identify the real cause of this problem.
When you are sure to the exact source error, you can follow the methods mentioned below to fix it.
CompatTelRunner: Correct CPU Usage [5 Solutions]
---
Solution 1: Flush DNS (Most efficient solution)
---
A very effective method to get rid of this error "DNS Server Unavailable"is of " Flush the DNS Using your command prompt.
Step 1 : simply on keyboard press the keys Win + R to open the box execution.
2nd step : Type " cmd.exe »And press the Entrance to have access to the command prompt.
Step 3: Once the command prompt appears type the first command " ipconfig / flushdns "And press the" Enter".
Type the second command "Ipconfig / release "And press" Enter".
Type the third command "Ipconfig / renew" and press " Enter"(Remember that you must type the commands without quotes).
Exit the command prompt and that's it.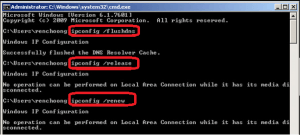 Restart your system. Check if your problem is resolved and you are connected to your internet again or not.
Disable or Repair Trustedinstaller? [4 Solutions]
---
Solution 2: For Adsl users
---
If you are an ADSL user and you use a router to access the Internet, I advise you to change your router settings because often there may be a small problem with the software of your router and the reset on your device may resolve this issue.
You don't need to special techniques to reset your router. Just look at the back of your router. You will see a reset button on the back of the device.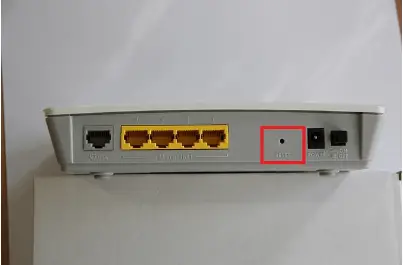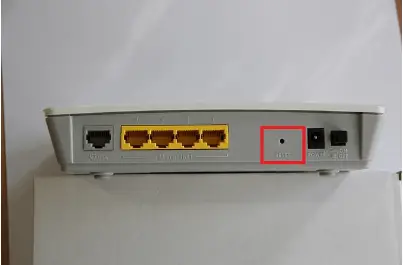 Press on the little button and hold it for about five seconds, then release. This will reset the router. Once you restart your computer, it will be connected.
See as well : [6 Solutions] Repair "Err_Connection_Closed" Error

---
Solution 3: Remove antivirus programs
---
You need to check if you are using one or more antivirus programs ? If there is more than one antivirus program, it can be the reason for this problem "DNS Server Unavailable" because there may be a problem with compatibility between your PC and software anti-virus.
So all you need to do is keep one safety program and of delete all others. Then restart your system and that's it.
How to Disable Superfetch Windows 10? (5 Methods)
---
Solution 4: For Windows 8 and 8.1 users
---
If you don't know how to use correctly command prompt cmd.exe and it seems to you that this is a difficult task, there is another very easy solution for you.
You can use the utility »Solving problems for your Internet connection« to resolve this problem automatically.
Just open the menu " To start up".
Move your mouse cursor to the top right to search for the search box.
Type " Problem resolution "In the search box and press" Enter".
Then choose Internet connections and click on Run the troubleshooter the troubleshooting will appear on the screen and it will begin to detect the problem.
Just follow the onscreen instructions on your screen to solve "DNS Server Unavailable".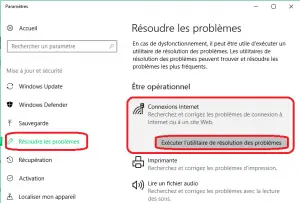 See also: Repair Outlook Error 0x800ccc0f [7 Solutions]

---
Solution 5: Disable the proxy
---
If you use a proxy on your system, you must deactivate it to check if it is causing problems or not.
To do this, press Win + I to open the Windows settings. After that click on Networks and Internet then choose Proxy at the bottom of the left menu.
Make sure that only the option Automatically detect settings is activated. If any other option is enabled, you must deactivate.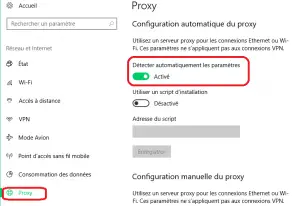 If a Malware or a Adware has recently attacked your system, you need to open another option in local connection parameters (LAN). To do this, search Internet options in the search box. To do this, search in the network and sharing center the Internet options.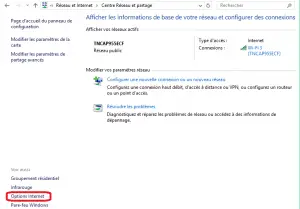 After opening the window " Internet Properties, go to the "" tabConnections » in the local network settings click on Network settings.
Then make sure that the option Use a proxy for your network local is disabled.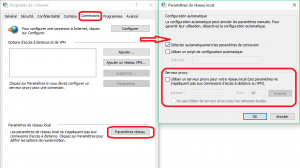 Resolve Error 0x80071AC3 Effectively (7 Solutions)
---
Solution 6: Use free Google DNS servers
---
Step 1 :
If you still have the same error "DNS Server Unavailable", you have to change your servers.
Use, the "Google servers" to resolve this problem.
2nd step : Simply open your menu " Network and Sharing Center".
Click with the mouse on your connection to display its window and then click on " Properties ".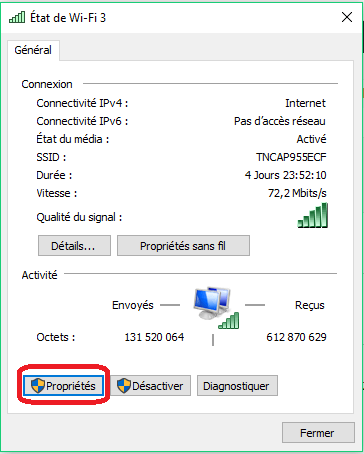 Step 3:
In the " Properties of your connection", Search" Internet Protocol Version 4 (TCP / IPv4) »Click on his« Properties".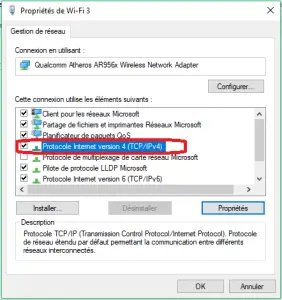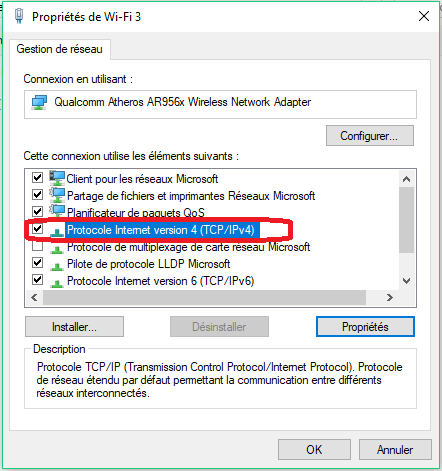 Step 4:
Check the " Use the following addresses ".
In the box before " Preferred DNS server, you must add 8. 8. 8. 8. 8 and in the alternative S., type 8. 8. 4. 4 and click on " OK " to register.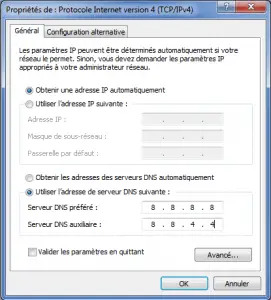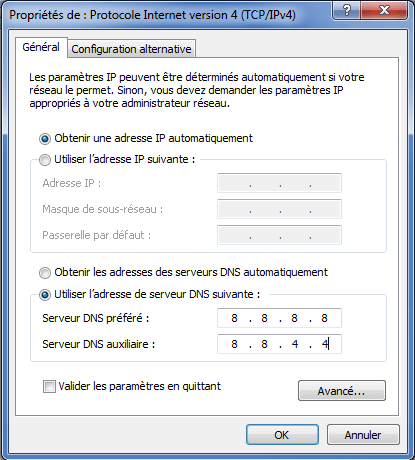 Then you will use the faster ones and there will be no more problems.
---
Questions and answers
---
Q : I read on a website that if I turn off IPV6 it will solve the problem instead of using "Google Servers". Is this true?
R : No, there is no point in deactivating IPV6. If the Google service does not fix this problem you can use method # 1 to flush the DNS. It is very efficient.
Q : Are there any other than Google's?
R : Yes ! If you don't want to use Google, you can use OpenDNS 208.67.222.222 in " S. Preferred DNS "And 208.67.220.220 in" S. Alternatif ".
Q : I have a "DNS server not responding" error, how can I correct it?
R : Basically this is the same error that I explained above, so by following the above procedure and methods you can fix this problem.