Finally here we are, the moment of the MWC (Mobile World Congress) 2022 has arrived and Huawei has decided to play a leading role right away in Barcelona, ​​where it has just announced the launch of well seven new devices enabled to take advantage of the equally new system Super Device and designed to put experiences in the hands of global consumers smart working more advanced and innovative. Among these stand out the first tablet E-Ink of the company Huawei MatePad Paperthe new tablet with HarmonyOS Huawei MatePad.
The range of products announced also includes: the latest flagship laptop Huawei MateBook X Pro, the first all-in-one PC from the Huawei MateStation X house, the new 2-in-1 Huawei MateBook E laptop, the first printer from the Huawei PixLab X1 brand and a new portable speaker. Here, however, we will focus exclusively on the new tablets.
All ready for Super Device and Smart Office
We have dealt with the new Super Device system in a dedicated article, here it is enough for you to know that the advanced collaboration and sharing functions within the Huawei ecosystem allow users to operate at their best in the Smart Office.
These new launches are an important step in realizing the Chinese manufacturer's vision of a "Boundless Creation and Seamless Communication" for the smart offices. In particular, Richard YuCEO of Huawei Consumer Business Group, stressed that Huawei has renewed its strategy Seamless AI Lifefocused on developing collaborative devices within five main scenarios: Health & Fitness, Smart Home, Travel, Smart Office and Entertainment.
The construction of the Super Device concept starts from afar: in 2018, Huawei had taken the first step with the OneHop function between smartphone and PC, in 2020 it was the turn of the already excellent Multi-screen Collaboration. All this has evolved into the Super Device system, which allows each device to function as a single functional module and opening up to resource sharing.
Among the most important news of today also stands out the launch of the Huawei Mobile App Engine app, which brings the AppGallery apps to PC and which will soon be available via Beta program.
Huawei MatePad and Huawei MatePad Paper at MWC 2022
Coming to tablets, the new MWC 2022 announcements are two and equally interesting.
Huawei MatePad Paper
Huawei MatePad Paper is the first tablet of the Chinese manufacturer to make use of an E-Ink screen, therefore it puts on the plate a reading experience on a completely different level than the usual tablets and promises a more engaging writing experience. Through this new device, Huawei wants to make "paper-less"Work in the office.
Turning to the technical data, MatePad Paper is equipped with a display E-Ink FullView 10.3-inch with an 86.3% screen-to-body ratio 9, powered by Huawei E-Ink Display Enhancement Algorithm, which offers a paper-like natural touch experience. The tablet can be used in conjunction with the Second generation Huawei M-Pencil supplied to take advantage of input methods such as handwriting, with the possibility of conversion. Other features include Split-Screen Notes and Annotations.
MatePad Paper's operating system is HarmonyOS 2, which allows you to take advantage of all the collaboration and sharing functions with smartphones and PCs. For example, you can continue reading content found on other devices on your tablet for easier reading and to reduce eye strain thanks to the E-Ink screen; to the advantage of convenience and productivity, the tablet can be used as an external storage unit for the PC through the bidirectional transmission of documents and e-books.
Huawei MatePad
Huawei MatePad is the new reference tablet from HarmonyOS, with a strong FullView 2K display 10.4-inch with 84% screen-to-body ratio, certified by TÜV Rheinland as a low blue light, flicker-free device and feature support Natural Tone.
This model also supports the second generation M-Pencil and many functions such as Huawei Free Script, Annotations And Take Snippet to take notes more comfortably. In addition, in landscape mode it has the dedicated Multi-window and App Multiplier functions.
Powered by HarmonyOS 2, the new Huawei MatePad can take advantage of all the collaboration and sharing functions with other Huawei devices, such as drag and drop files with smartphone, Mirror, Extend and Collaborate with PC.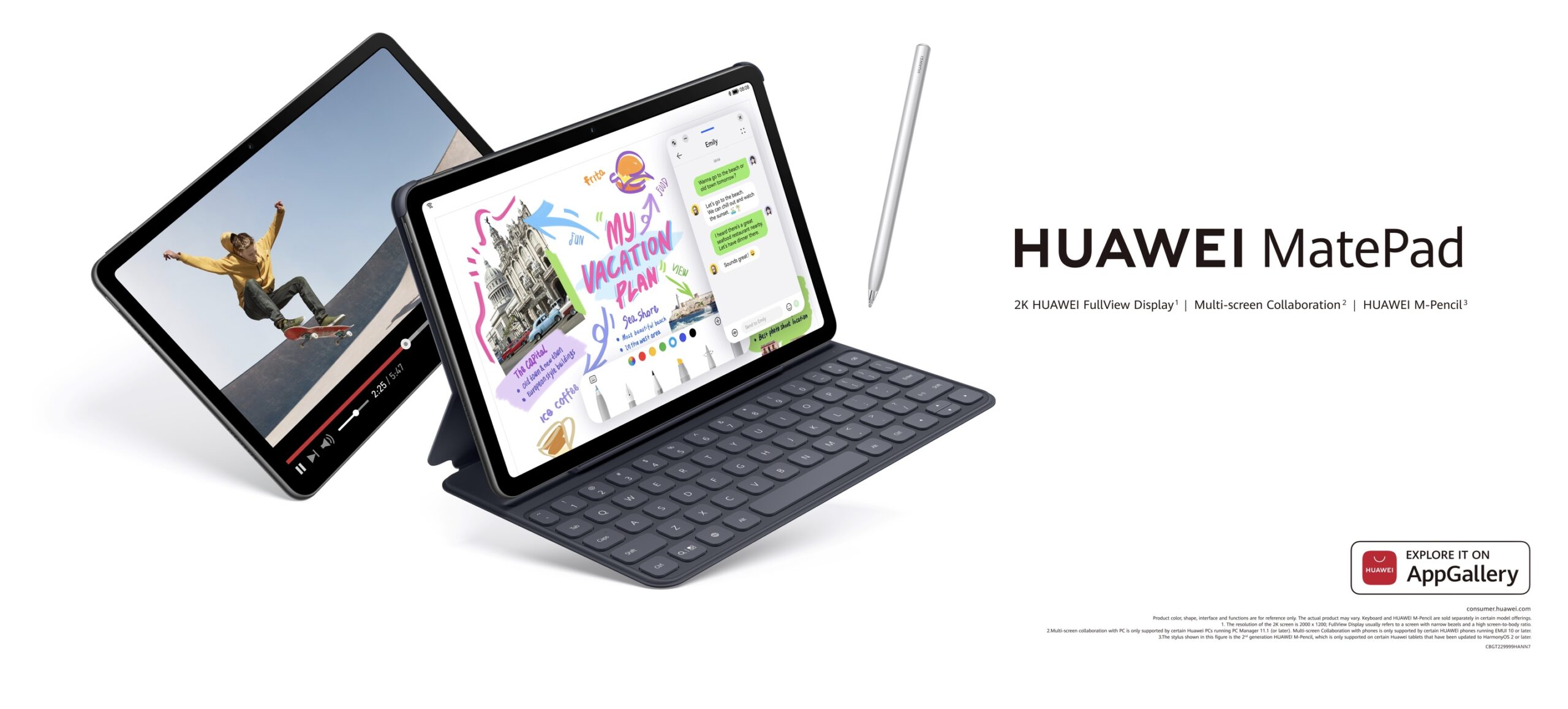 Waiting for more information on prices and availability, the announcement made by Huawei is interesting, which will also offer the new products to Western European companies, taking its first step in the B2B landscape in order to bring more efficiency and productivity also to company level.
It might interest you: Huawei P50 Pro review