Are you looking for the best way to check the notifications on your phone and always know, already from the sound of the vibration or the sound of the notification, if it is an important business call or yet another message in the soccer group? Great, because in this guide we will show you how you can bring notifications on your Android smartphone to a level of customization that you never thought was possible! Here's how to customize the vibration on Android using personal patterns.
What BuzzKill is and how it works
Buzzkill is a collection of tools that help you keep notifications under control by creating rules that limit which notifications to activate, and when to receive them. Said like this it seems a rather trivial app and devoid of personality, but as soon as you use it the feeling that returns is that of heyday of modding on Androidwhen John Wu was not yet working for Google and Magisk was the daily bread for many lovers of personalization.
Without digressing further, with BuzzKill it's possible customize notifications creating rules to view, intercept, silence or show notifications and assign specific actions for each of them. For example, it is possible create a certain vibration pattern so as to recognize a notification from the noise of the vibration: a priceless possibility for those who already use easy access tools.
Creating a notification with a custom vibration pattern is just the tip of the iceberg, because BuzzKill can do much, much more. Before starting to talk about the application in detail, it is good to clarify that it is a paid application available on the Play Store.
At the time of writing this guide the application costs 2.69 euros: it is certainly not the cheapest app, but its capabilities amply pay off the expense. The developer, Sam Ruston, not only has it integrated powerful features into the app, but has proven that it can create a graphically rewarding and enjoyable tool to use. For those interested, by clicking on this link you access a thread on Reddit in which the developer personally answers some questions about the development of BuzzKill, its limits and potential.
Are you wondering if BuzzKill is safe? The application does not require Internet access, does not contain ads or in-app purchases and, above all, does not have any type of data tracking technology.
Initial setup
After downloading the app on the Play Store, the first thing to do is to enable access to notifications: the app itself will guide you in the process, which in summary involves activating a toggle from the corresponding menu. After activating the toggle we tap on Allow when access to notifications is requested and we return to the app to continue.
The translation into Italian is incomplete: we usually find only excerpts translated, but everything is clearly understandable and easy to use. In the main window, in the lower part, we find a bar with four sections: Rules, Chronology, Explore And Settings. In the Rules section we can set new rules for custom notifications, the process of which we will see in more detail shortly; the History section allows you to have a clear overview of the use of notifications on our mobile phone, useful for understanding any trends on which you want to capitalize or when you want to reduce distractions in a certain period of the day – for example, at work or while you are it's in the gym, similar to Focus mode.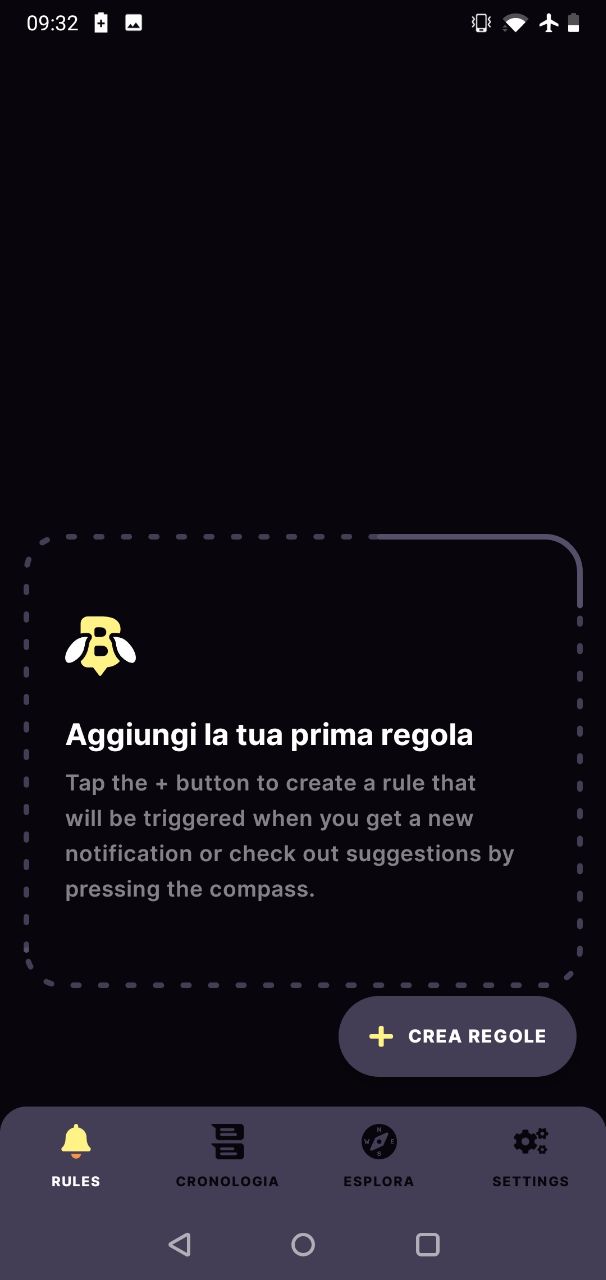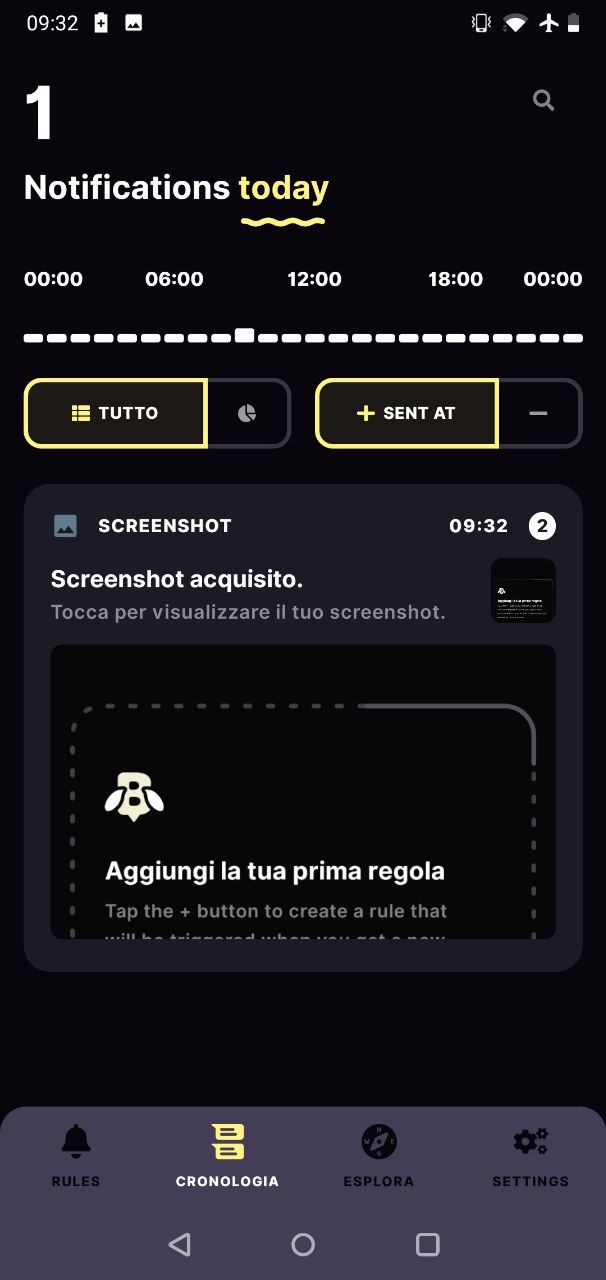 The Explore section provides generic rules that could be useful to start using BuzzKill, or to get ideas for more complex solutions. Finally, in the Settings section it is possible request technical support directly to the app developer, as well as having access to advanced options, one above all the possibility of deciding whether to use the customized settings for notifications even with an unlocked device.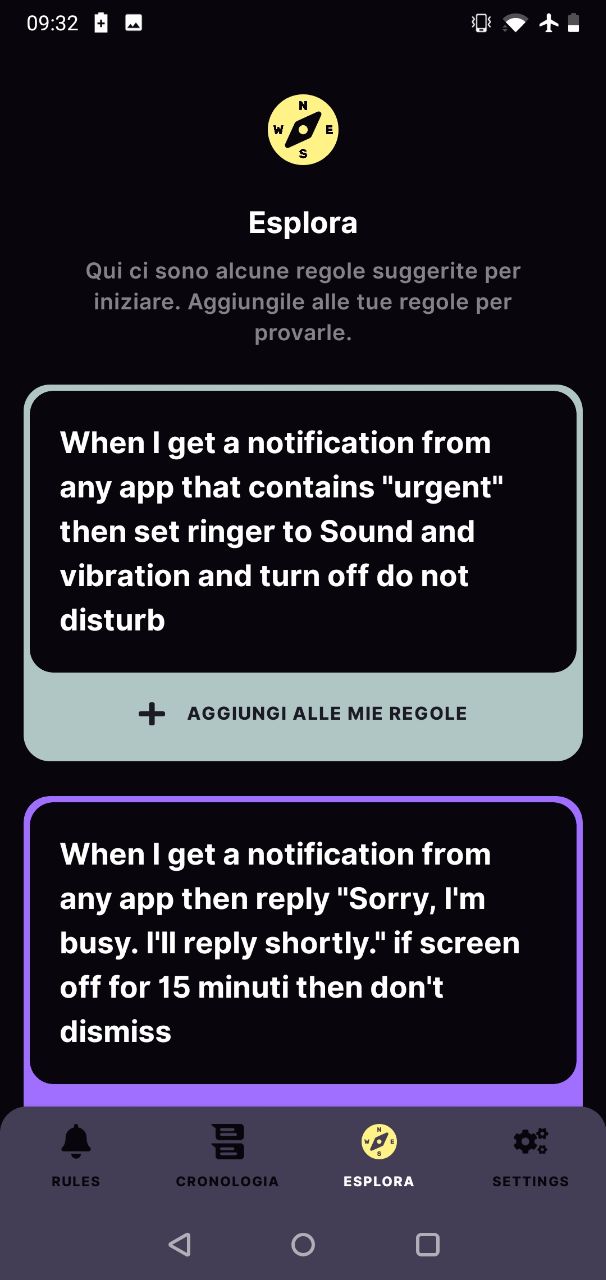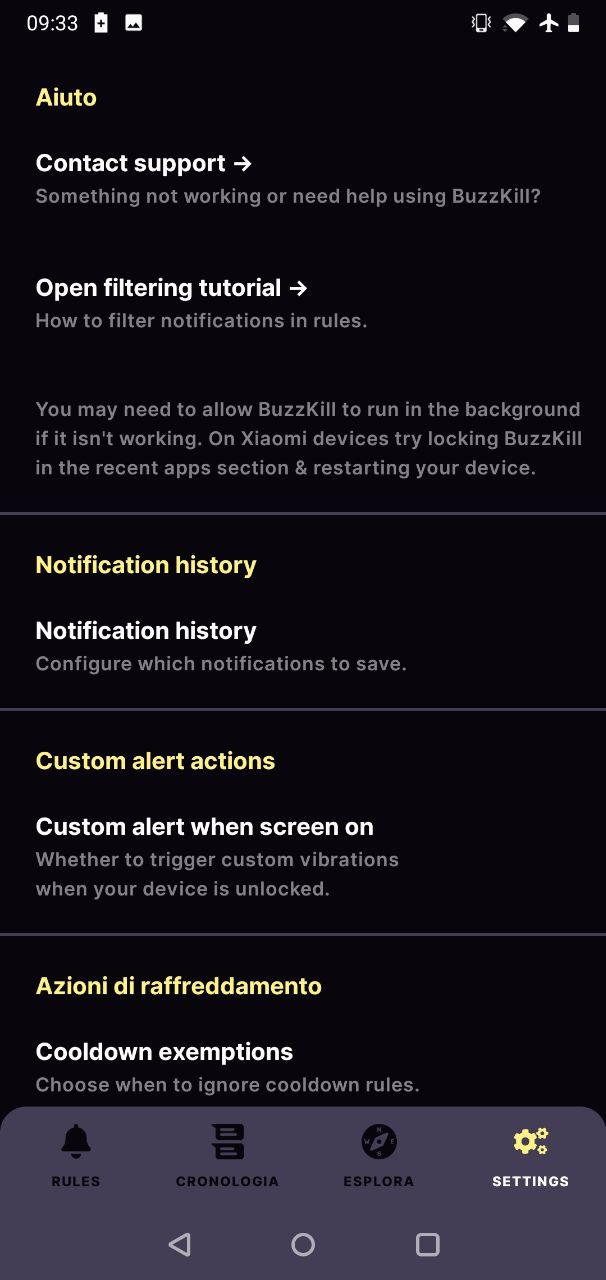 How to set up a custom notification in Buzzkill
By going to the Rules section we can create customized notifications for our Android smartphone: here we can really indulge ourselves in creating specific rules for each possible type of notification. There are obviously limits with which one encounters when applications do not provide direct access to events – for example when a user on Twitter likes one of our posts – but otherwise the total compatibility with the most used apps is surprising. Single and group chats on WhatsApp, emails and attachments on Gmail, direct messages on Instagram and many, many other apps are only a fraction of the total compatible with BuzzKill ..
To create a new rule, we tap the corresponding button and we will find blocks to complete: a bit like constructions Lego, creating the perfect rule to receive a personalized notification is equivalent to building a finished product using the correct blocks. The first move is to specify the app you want change the behavior for notifications: in this case, we must select "any app" and choose the desired application from the list of installed applications. In our example, we choose the Gmail app.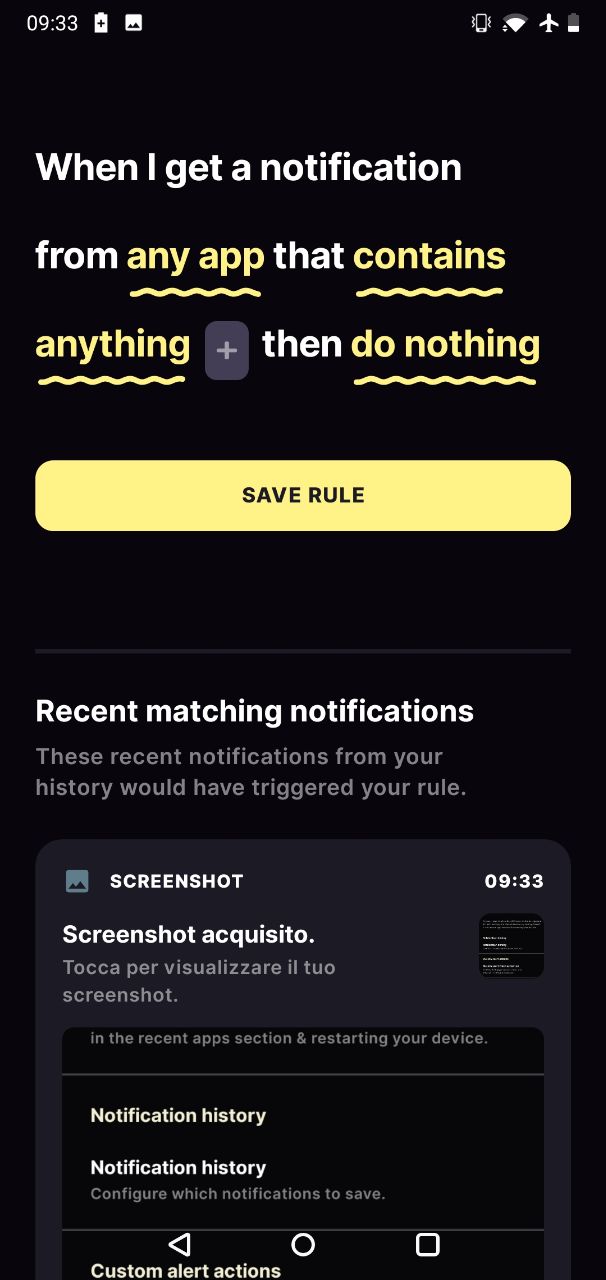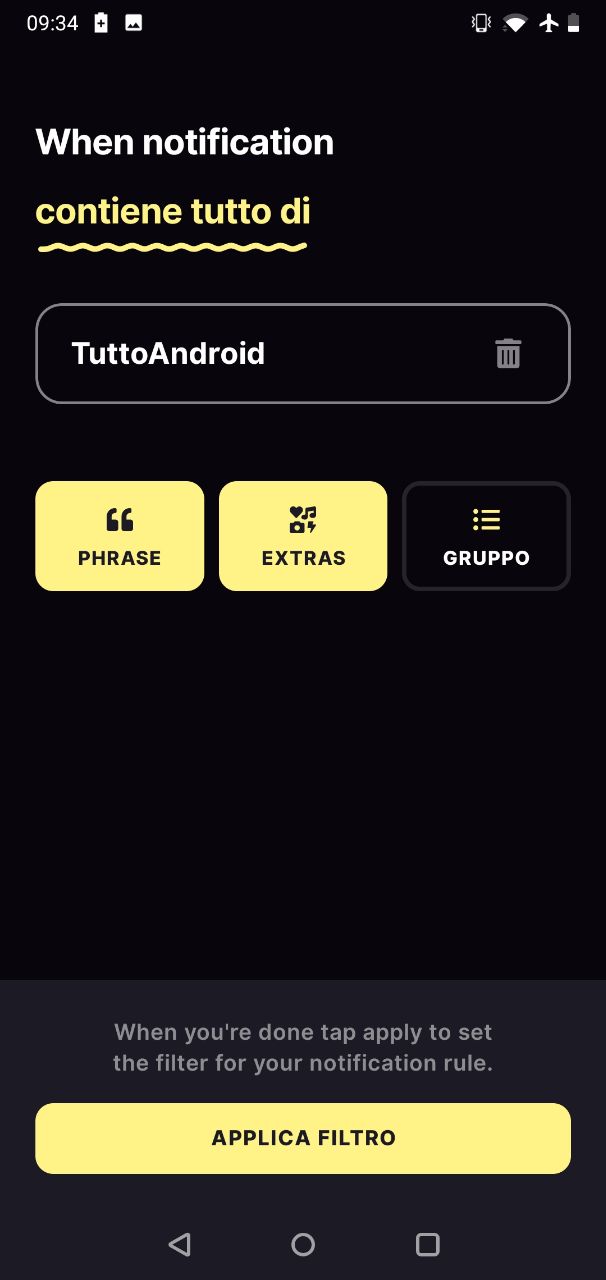 Now you have to choose the type of content of the notification: for example by selecting the emails that contain a certain phrase or keyword, or those that contain an attachment, making sure to press the button Apply Filter when we are satisfied with our rule. In our specific example we are creating a rule that will send a personalized notification when, on the Gmail app, an email containing the word "TuttoAndroid" arrives.
It's time to choose the action: the list of possible actions that can be given for each single notification is really long, with more than 20 options to select. Here are the actions available for those who are disoriented by the bilingual mix of descriptions:
Cooling down: prevents the same application or conversation from sending notifications in quick succession;
Silence: prevents the selected notification from vibrating or making a sound;
Remind me: remembers the notification repeatedly with a certain time interval, until it is displayed;
Speak: uses the text-to-speech engine to verbally reproduce the notification content;
Alarm: when your screen is off you will receive a full screen alarm message with sound and vibration;
Unisilence: allows a notification to activate vibration and sound when the phone is in silent mode;
Group: receive notification information grouped by application;
Snooze: when a notification is received within a certain period of time, the notification will be automatically postponed;
Secret: replace the notification to hide its content;
I notify customized: set a vibration or a custom sound for the notification;
Sticky: the notification cannot be canceled with a quick swipe;
Postpone: automatically postpones the notification;
Keep self: keep a notification only if it matches a certain criterion;
Undo dismiss: restore an accidentally deleted notification by managing swipe;
Open notification: automatically opens the notification as soon as it is received (requires accessory permissions);
Press button: automatically presses a button in the notification field (eg Reply or Like);
Reply: automatically replies to the notification (if the Quick Reply button is present in the notification icon);
Copy code Of verify: automatically copies the verification SMS to the clipboard and deletes the notification;
Remove from history: remove the notification from the BuzzKill history;
Set ringer: changes from silent mode to active sound mode depending on the notification received;
Trigger Tasker– starts a Tasker script when a notification is received.
For our example we choose the Remind me option, which reminds us repeatedly of the notification (complete with sound and vibration) until it is displayed, with a certain time interval. We set the rule with 15 minutes of interval and press Save Rule to save the rule: we have successfully set up a custom android notification using BuzzKill.
In the Rules section the newly created rule will now be displayed: note the possibility to activate or deactivate it quickly pressing on the appropriate toggle placed in the corner. If you want to change a rule just press the menu with the corresponding three dots and select Edit.
How to set a custom vibration pattern for notifications on Android
Now that we know how to create a custom Android notification with BuzzKill we can move on to the next step: create a custom vibration pattern for notifications. The operation is really simple, and we can do it for all the rules already created or with a rule created from scratch: in the creation or modification phase we choose as action Personalized notice and a new window will open.
We can now compose the vibration pattern as we like, adding different types of vibration interspersed with optional spaces. If we are not sure of the result we can press the button Preview so as to immediately realize the result. We can also select some predefined patterns created previously by going to View Presets. When we are satisfied with the result we press Pick Pattern to assign the newly created vibration to the custom notification.
Congratulations – you just created a custom vibration pattern for notifications on your Android smartphone, but there are so many more things to say about BuzzKill! For example, we haven't talked about the possibility of use regular expressions (regex) to be able to create extremely specific and powerful identification patterns; or the ability to integrate Tasker and create automation chains from a simple notification – a possibility that will also be supported with Android 13 judging by the latest updates. For example, you can ask a smartphone or tablet remotely to perform an action via Tasker by sending an ad-hoc SMS message, or a notification via a messaging app: as we have said, the use cases and BuzzKill's customization possibilities are endless. Now you just have to "get your hands dirty": download the app and let us know, in the comments box, what custom notifications you have created on your Android smartphone!
You might like: Customizing Android: Guides and Tips for your smartphone