There are just a few days left for the official presentation of the series Samsung Galaxy S22scheduled for February 9 and in Net new details continue to emerge on the main features of the new smartphones of the Korean giant.
Recall that, depending on the target market, Samsung's phones will be equipped with a Qualcomm Snapdragon 8 Gen 1 processor or a Samsung Exynos 2200 CPU and both versions of Samsung Galaxy S22 Ultra have already appeared in the database of the popular benchmark test Geekbench.
The two versions of the Samsung Galaxy S22 Ultra compared
Is exactly thanks to the Geekbench database we have the opportunity to see a "numerical" comparison between the version of Samsung Galaxy S22 Ultra with Qualcomm Snapdragon 8 Gen 1 processor (codenamed SM-S908UB) and the one with Samsung Exynos 2200 processor (codenamed SM-S908U).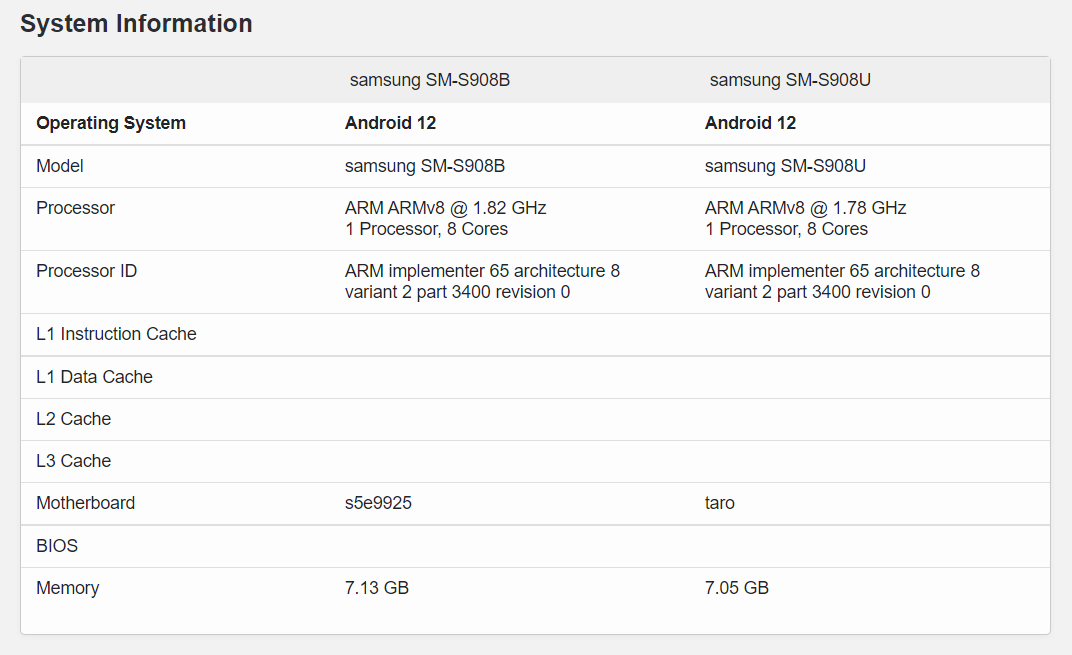 The results recorded by the two versions are very similar, with a slight prevalence of the Exynos one in the test single core (1,226 points vs 1,168 points) and that of Snapdragon in tests multi core (3.508 points vs 3.462 points).
Qualcomm Snapdragon 8 Gen 1 and Samsung Exynos 2200 are two CPUs made with 4 nm technology and, despite being practically identical in terms of architecture (1 Cortex X2 core + 3 Cortex A710 cores + 4 Cortex A510 cores), they could offer different performances regarding the graphic aspect.
However, it should be noted that the benchmark tests are not representative of what will be the experience actually offered to users in everyday life.
As for our market, Samsung should market the version with Exynos 2200 CPU while the one with Qualcomm's processor should be sold in the United States but in recent weeks there have been some rumors that the Korean manufacturer may have changed its programs.
See you next Wednesday to find out what Samsung has in store for us with its new Galaxy S series smartphones.
Read also: Samsung's best smartphones of the month