This long wait full of information leaks is about to come to an end: finally tomorrow, February 9, 2022, the Galaxy Unpacked 2022 will be held – you can follow it with us at this link – and we will officially get acquainted with the widely anticipated Samsung Galaxy Tab S8, Samsung Galaxy Tab S8 + and Samsung Galaxy Tab S8 Ultra.
The new premium range Android tablets signed by Samsung will join the launch of the great protagonists of the keynote, which will obviously be Samsung Galaxy S22, Samsung Galaxy S22 + and Samsung Galaxy S22 Ultra.
In recent days we have already had the opportunity to put together many details of the three tablets that the South Korean manufacturer is preparing to launch, including images and official videos (later removed by the manufacturer), complete specifications inadvertently confirmed by Amazon and European list prices, without forget the live photo of the Ultra model that highlighted the infamous notch and, just a few moments ago, the excellent news that should concern them all in terms of software support.
Now it's time to complete everything with the "definitive leak", Made up of a bunch of good quality renders – which portray all the models and allow you to appreciate their peculiarities and differences – and confirmations on the technical specifications.
Samsung Galaxy Tab S8, S8 +, S8 Ultra: images and technical characteristics
Let's start with a profit technical specifications reportmade possible by press material leaked in advance:
Samsung Galaxy Tab S8 has an 11-inch LTPS TFT display with a resolution of 2560 x 1600 pixels with a refresh rate of up to 120 Hz; then offers 8/12 GB of RAM and 128/256 GB of internal memory, however expandable. On the right side is a fingerprint sensor.
Samsung Galaxy Tab S8 + it does not differ from the basic model for memory cuts, but is larger, stronger than a 12.4-inch Super AMOLED display with a resolution of 2800 x 1752 pixels with a refresh rate of up to 120 Hz. The fingerprint sensor is in-display.
Samsung Galaxy Tab S8 Ultra is the giant of the series, with its 14.6-inch Super AMOLED screen with a resolution of 2960 x 1848 pixels and a refresh rate of up to 120 Hz. In this case, the memory cuts are from 8/12/16 GB of RAM and 128 / 256/512 GB of storage. The fingerprint sensor is in-display.
Net of these differences, all three models offer Qualcomm Snapdragon 8 Gen 1 Mobile Platform at 4 nm, S Pen (magnetically attached to the back) and software rich in dedicated functions. All of them support fast charging a 45 wattsalthough battery capacity goes hand in hand with size: 8,000 mAh for the Tab S8, 10,090 mAh for the Tab S8 + and 11,200 mAh for the Tab S8 Ultra.
As for the cameras, there is talk of a double rear for everyone, with 13 MP main and 6 MP ultrawide; different story before, where Tab S8 and S8 + should stop at a single 12 MP wide-angle and Tab S8 fill the notch with a main 12 MP and an ultra-wide 12 MP.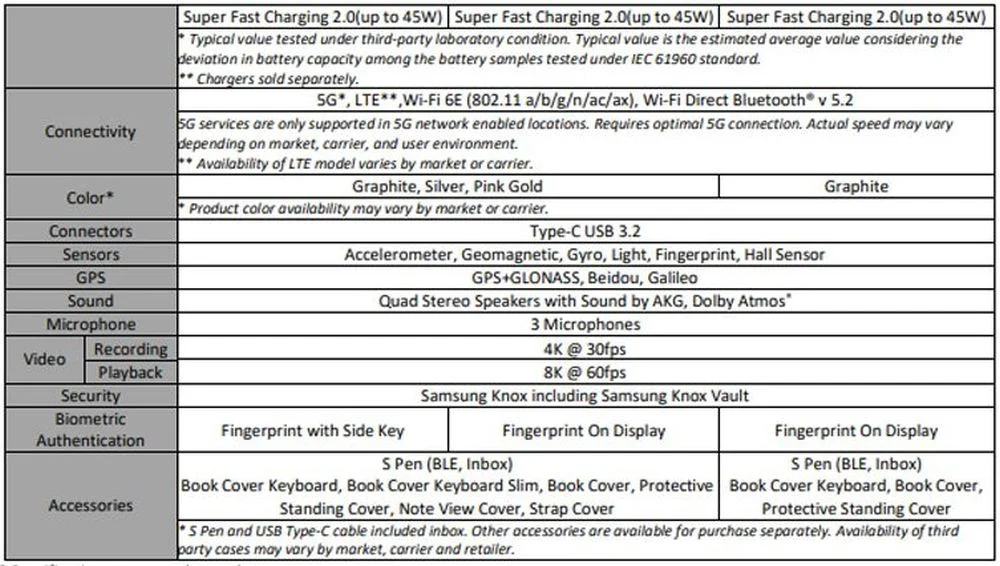 According to leaked material, Samsung's new tablets will push a lot on productivity thanks to advanced software functions. According to what is learned, they will be the first tablets of the brand to support the powerful video editing software LumaFusionwhich is coming to Android and will debut on these products.
In addition to this, users of Clip Studio Paint they will have the possibility to connect their Galaxy smartphone and the Tab S8 tablet to transform the smaller device into a toolset for the S Pen, avoiding having distractions on the "canvas" (the tablet).
Software support has already been mentioned, in any case here it is enough to know that the series Samsung Galaxy Tab S8 will debut with Android 12 and One UI 4 and should be guaranteed four major Android updates and five years of security patches.
Take care of software, but also hardware: Samsung should use the same armor aluminum Samsung Galaxy Z Fold3 and Samsung Galaxy Z Flip3, which to be foldable have convinced everyone in terms of resistance. This solution would make tablets 40% less prone to bending than Tab S7 and 30% more scratch resistant.
Samsung Galaxy Tab S8 and S8 + should arrive in black, silver and pink, Samsung Galaxy Tab S8 Ultra only in black.
As we learn, Samsung will open i pre-orders already on February 9th and sales since February 25, 2022 in USA, Europe and South Korea. There will be gifts with pre-orders: the Book Cover Keyboard with Samsung Galaxy Tab S8 Ultra, Book Cover Keyboard Slim with Samsung Galaxy Tab S8 and S8 +. For the prices we refer you to our previous article.
Samsung Galaxy S22, S22 +, S22 Ultra: launch, delays and official images
Finally a reference to Samsung Galaxy S22, S22 + And S22 Ultra. Smartphones, as is well known, will be presented tomorrow and should arrive on the market on February 25th.
In recent weeks, there was mention of possible delays and even a possible postponement of the launch. Now a leaker reopened the question on Twitter noting how a depletion of initial stocks could create problems for Samsung due to union disputes and a possible strike that could slow down (if not paralyze) production.
Furthermore, to pass the wait, here are some beautiful images that the leaker Demonix provided to LetsGoDigital. The great protagonist is Samsung Galaxy S22 Ultravisible in all colors and in various scenarios lifestyle.
Official hands-on videos
Static images weren't enough for you? Once again thanks to the leaker Demonix we can even show you the official hands-on videos of all the new models coming.
Samsung Galaxy S22 it is shown in blue, green, pink and white; the triple camera, keys and ports of the device are also clearly visible. Samsung Galaxy S22 Ultra appears in black, red and white and there is the most awaited detail: the S Pen inherited from the Note series is extracted from the special housing.
Samsung Galaxy S22 Ultra ???? here is full design#DemonixLeaks #Samsung #Unpacked # S22Ultra pic.twitter.com/N1t9wnE752

– Demonix (@DemonixLeaks) February 8, 2022
The second hands-on video features Samsung Galaxy Tab S8 Ultra with its huge Dynamic AMOLED 2X display with notch. Here too there is the S Pen and it shows off the software goodies of the device.
Samsung Tab S8 ???? here is full view#DemonixLeaks #Samsung #Unpacked # TabS8 pic.twitter.com/ZjiJmg0T0b

– Demonix (@DemonixLeaks) February 8, 2022
It might also interest you: Samsung Galaxy S22 and Tab S8 as if they were official: only the announcement is missing