Interesting news coming soon in these weeks on Google Mapsboth on Android and on iOS. Google announces new ones updates thanks to which we will be able to say goodbye to the problems of planning travel and vacations: there are even more ways to plan your route quickly and easily, both for driving in a new city and for organizing a road trip on several stages.
Toll or non-toll? Prices arrive on Google Maps
Road trips can be marred by heavy traffic and less than ideal road conditions. In those moments it may occur to us to rely on a faster road to tolland with the news of Google Maps in distribution we will be able to have access to prices. Soon we will be able to view the estimated cost of the toll even before starting navigation, thanks to the information provided by the local authorities: the app will also take into consideration the day of the week and the specific time, in order to be as accurate as possible.
If, on the other hand, we have no intention of taking a toll road, Maps will continue to show us an option for a "free" route anyway. As always, we can select our preference from the options by touching the three dots at the top right.
This novelty is in distribution, but now comes the sore point: it will be available later this month starting with nearly 2000 toll roads in the United Statesin Indiain Japan and in Indonesia. More countries are on the way, but there is no specific list and timing yet.
More detailed maps during navigation
Driving on unfamiliar roads, especially at night or with passengers, can be stressful. To explore with greater peace of mind Google Maps is preparing to introduce new details to the experience of navigation, thanks to which we will be able to have traffic lights, stops, outlines of buildings and areas of interest. In some selected cities, we will be able to see even more precise information, such as the width of the street, including docks and road islands, in order to reduce last-minute lane changes and avoid missing a turn.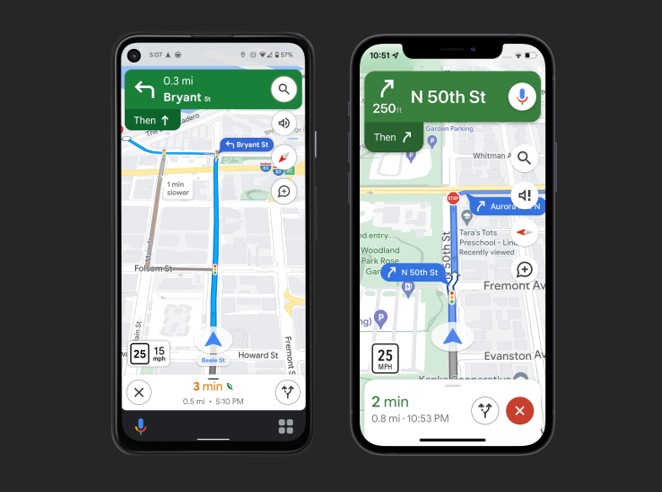 The new navigation map of Google Maps, which we have already started to know in recent months, will be available in some countries in the next weeks on Android, iOS, Android Auto and CarPlay.
Google Maps continues to constantly improve, therefore, also by exploiting Artificial Intelligence. As we have seen, there are thousands of changes and fake reviews to be detected and blocked. To be sure you have installed the latest version distributed by the Mountain View house, you can follow the badge below.
You might be interested in: Android Auto continues to improve with the new Coolwalk interface