There are several new features that the development team of Gmail and among those being tested there is also an option that allows users to suspend notifications on their smartphone when they are using the desktop client.
An interesting new feature being tested on Gmail
According to what is explained by the Mountain View giant, the new function studied by the Gmail team allows pause notifications on the phone when the user is active on a desktop computer (this is possible by allowing the browser to detect if it is active or if it is not using it).
Once you have given your consent to the authorization request to "know when you are actively using the device", the function is activated automatically.
The Gmail settings menu has no option to manually enable this feature or to disable it after it has been activated and the related permission can be revoked in the Google Chrome settings (by going to the settings menu Settingsthen in the section dedicated to Security and privacyentering Site settings and then going on Other permissionswhere it will be necessary to look for the item "Use of your device").
At the moment it is not clear how wide the release of this functionality has been but it seems that at present it has been made available only to a small group of users.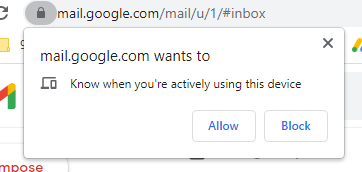 The hope is that the testing phase can be completed quickly and that the functionality will therefore be made available to all users as soon as possible. To find out more, therefore, we just have to wait for official information from the Mountain View giant.
In the meantime, you can download the latest available versions of Gmail for Android from APK Mirror (here you can find the dedicated page) or from the Google Play Store through the following badge: