Let's find out together the latest news studied by the Google developer team for two popular applications such as YouTube And Gmail.
YouTube introduces a new dynamic theme
With Android 12 the new Material You design language also arrives and the Mountain View giant is updating all its applications to this style and even that of YouTube in the past few hours has introduced a graphic change to its interface.
Compared to other Google apps, with YouTube the graphic redesign is less pronounced and it is not possible to talk about dynamic themes based on the smartphone background: the color on which to base the whole interface (in particular some of its elements), in fact, is taken from the video thumbnail.
This is a solution that YouTube Music has been using for a long time: in this app, in fact, the "playing" user interface takes its color from the album cover of a song.
Just as we learn from Android Police, this change is not related to Android 12 and will also be implemented in previous versions of the OS. You can download the latest version of YouTube from the Google Play Store:
Gmail is increasingly integrated with other Google services
In the last two years, Google has tried to standardize the interface of the various services offered to users and among the common elements there is the sidebar, which in the coming weeks will also be able to count on the link to Gmail contacts.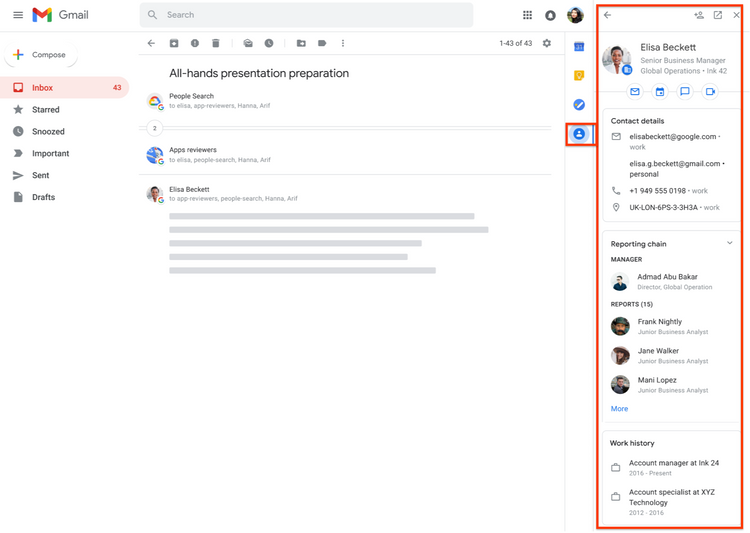 Just as we learn from Android Police, the link to Gmail contacts should land on Google Chat, Calendar, Documents, Sheets and Presentations (i.e. the services that have one of their main peculiarities in collaboration with other people) and present the same interface already seen on the colossus's email client Mountain View (with the ability to view details of each contact, such as email address, phone numbers, etc.).
This new feature is already in the process of being released but it may still take several days before it actually reaches all users.