From OPPO good news arrives for owners of one of its smartphones who are eagerly awaiting the release of the update that it will bring to their devices ColorOS 12the Chinese manufacturer's custom interface based on Android 12.
During the second quarter of 2022 (i.e. between April and June) there are numerous devices from the Chinese manufacturer that will receive a beta version of ColorOS 12 while others will receive only the stable one.
Here are which ColorOS 12 devices with Android 12 will arrive in Q2
Let's start with the roadmap for the release of ColorOS 12 global beta:
Starting April 8, 2022
OPPO F19 (India)
OPPO F19s (India)
OPPO A74 (Indonesia)
Starting April 12, 2022
Starting April 14, 2022
OPPO F17 (India)
OPPO A73 (Vietnam)
Starting April 19, 2022
Starting April 26, 2022
OPPO Reno3 Pro (India)
OPPO Reno3 (Indonesia)
Starting in May 2022
OPPO Reno7 5G (India)
OPPO Reno 10x Zoom (India)
OPPO A76 (India)
Starting in June 2022
OPPO Reno7 Z 5G (Indonesia)
OPPO F21 Pro 5G (India)
Turning to the Global stable version of ColorOS 12 based on Android 12this is the roadmap published by OPPO:
Starting April 12, 2022
OPPO Reno4 Z 5G (Thailand, Philippines)
Starting April 25, 2022
Starting in May 2022
OPPO Reno7 Pro 5G (India)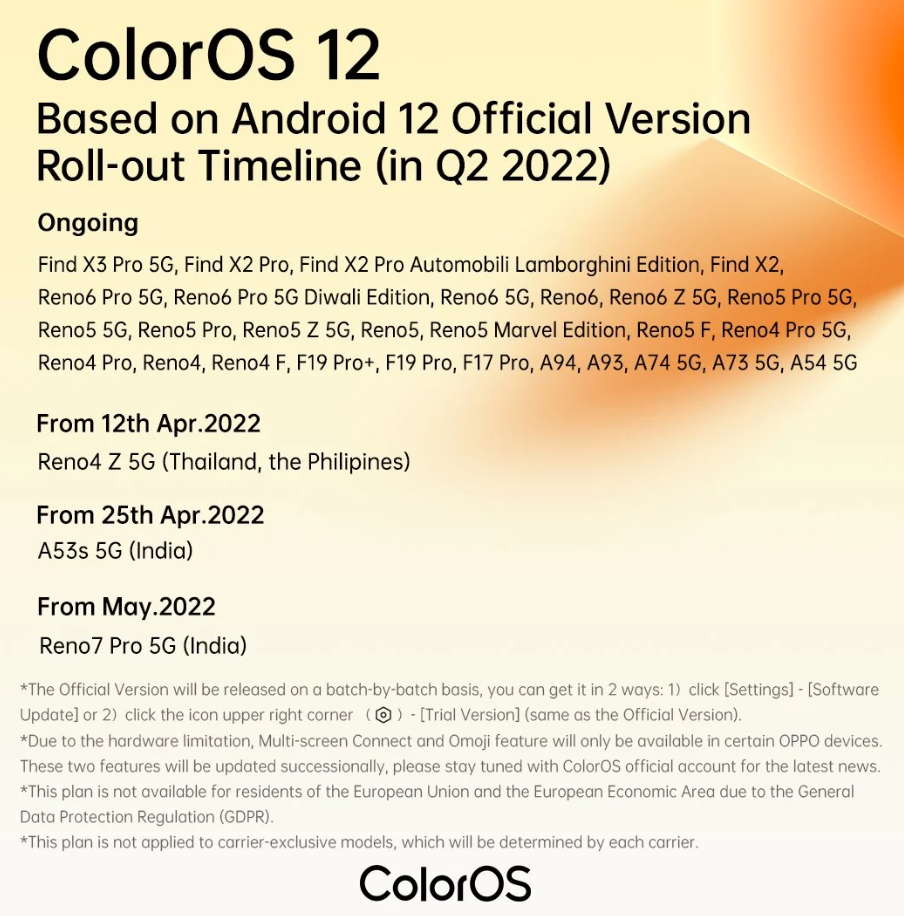 As for beta builds, users interested in taking part in the tests will have to request registration to the relevant program before they can proceed with their installation.
Both the updates with the stable versions and those related to the beta releases will be implemented in waves and, therefore, in case you do not receive a notification on the set date, you will only need to have a little patience. The most impatient can still make a manual attempt, by going to the Settings menu and accessing the section dedicated to software updates.
You may also be interested in: OPPO's best smartphones of the month