Despite being the most used browser in the world, Google Chrome does not provide a confirmation notice when closing all open tabs.
Since it can happen that you accidentally close them, perhaps when you wanted to tap another item in the menu, Google has finally started developing an action confirmation window on Android.
Google Chrome tests the confirmation notice to close all tabs on Android
Unless you set Chrome to start with the previous session on desktop, open tabs won't be restored after you close them, but Chrome on Android doesn't support startup options like on desktop.
When all tabs are closed by tapping the relevant option in the three-dot menu, a notification will appear in the future allowing you to cancel or confirm the action.
At the moment this experimental feature can be activated through the relative flag in version 100 of Google Chrome Canary.
Waiting for it to be released for the stable version of the browser, you can try it in preview by typing chrome: // flags in the Chrome Canary address bar and looking for the feature Close all tabs modal dialog using the search tool on the page, then just select Enabled from the relative drop-down menu and finally restart the browser to make the change effective.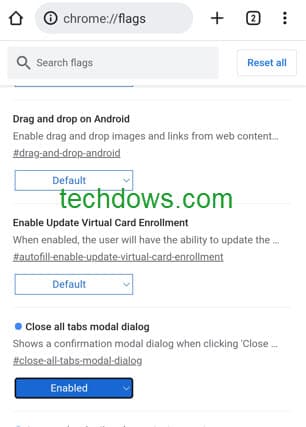 You might be interested in: Why choose a Chromebook? Here are 7 benefits and features to know