Are you looking for the best Google smartphone? You have come to the right place. In this guide, updated for the month of December 2021, you will find out which smartphones are produced by the Californian giant, their main features and the best prices on the market.
After a long period in which it has made smartphones with different partners, included in the historic Nexus line, since 2016 Google has started to personally make its own smartphones, launching the Google Pixel line. These are products that over time have brought together lovers of the stock version of Android, purists who do not want changes to the user experience designed by Big G.
There are not many models made by Google, which only in 2019 decided to launch a cheaper line to complement the top of the range, but it is still useful to clarify and understand what are the best Google smartphones available on the market.
Best Google smartphones
In this guide, unlike what happens for most brands, you will not find price ranges or particular subdivisions, since in essence Google only produces mid-range or top-of-the-range. In our list you will first find the mid-range models, distinguished by the presence of the letter "a" in the name, followed by the top of the range.
As with other manufacturers, in some cases the models presented in 2019 may be more attractive than the mid-range models presented later. It should also be considered that most of the exclusive functions are also carried on previous models, unless they are linked to particular hardware components, as in the case of the Project Soli radar, used only in the Google Pixel 4 and 4 XL.
Here, therefore, are in our opinion i best Google smartphones, including that as well Google Pixel 5 which is not officially on sale in Italy.
Google Pixel 3a
Google Pixel 3A marked the debut of the Californian giant in the mid-range of the market in late spring 2019. Compact in size (151.3 x 70.1 x 8.2 mm) and with excellent ergonomics, thanks to the materials and the low weight, it does not have fine finishes like the high-end "brothers" but has an obsessive attention to detail which makes it a recommended purchase in its price range. There is no need to worry about the presence of a 3,000 mAh battery that allows you to cover a working day without worries and without paying special attention. The single 12 megapixel sensor (f / 1.8) benefits from Google's incredible software that allows you to get flawless photos in any situation, day and night, thanks to an almost infinite series of additional functions useful in any situation.
Go to: Google Pixel 3a review
Other offers
Google Pixel 3a XL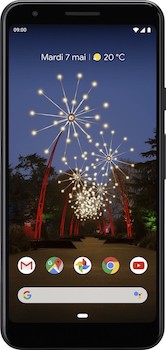 The XL variant of the first Google mid-range arrived in our country in May 2019 in two different colors and in a single memory variant. The design is certainly not the strength of the Google Pixel 3A XL, which despite a screen of only 6 inches measures 160.1 x 76.1 x 8.2 mm and 1676 grams of weight. Blame the abundant frames, which, however, do not particularly weigh on the ergonomics that remain acceptable. With 3,700 mAh the battery is able to guarantee a good autonomy, so much so that you will arrive in the evening with a good residual charge even on the most intense days. It is not unthinkable to be able to reach two days. Later we find a single 12.2 megapixel camera (f / 1.8), a fact common to almost all of the Pixel production. Thanks to the extraordinary software the photos are always of the highest quality, day and night.
Other offers
Google Pixel 3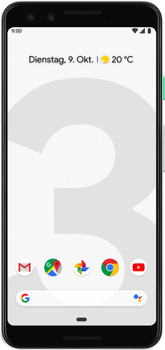 In Italy it is possible to buy Google Pixel 3 from November 2018, in three different colors and in two memory sizes, 64 and 128 GB. Thanks to the 5.5-inch screen, the dimensions are quite small, 145.6 x 68.2 x 7.9 mm and 149 grams of weight. The rear glass makes the smartphone rather slippery and has an unpleasant tendency to get scratched. Less than 3,000 mAh of battery is still sufficient to arrive in the evening with normal use, but on busy days it is likely that you will have to resort to a recharge to arrive in the evening. Once again, a single 12.2 megapixel sensor (f / 1.8) is used for the rear camera, and the photos are as always flawless. About the software that allows you to get excellent shots in any light condition, especially in low light.
Go to: Google Pixel 3 review
Other offers
Google Pixel 3 XL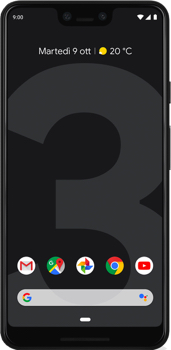 Like its younger brother, Google Pixel 3 XL also arrived in Italy at the end of 2018 in three different colors and two memory cuts. The huge notch that characterizes the front, combined with the 6.3-inch screen, brings the dimensions to 158 x 76.7 x 7.9 mm. However, ergonomics are good thanks also to the particular finish of the back cover, almost soft to the touch. With 3,420 mAh you will arrive in the evening without major problems, even on the most demanding days, but it will be difficult to do better. However, it is possible to exceed 5 hours of screen on with average use. Once again we find, at the rear, a single 12 megapixel sensor (f / 1.8) capable of obtaining extraordinary photos in any condition. The absence of additional sensors is felt only for the minor versatility, but it is compensated by the night photos that are as always impeccable.
Go to: Google Pixel 3 XL review
Other offers
Google Pixel 4a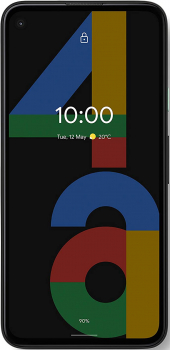 It arrived in Italy in October 2020, a few weeks later than the international markets, in the Just Black colorway only. It is a very compact device (144 x 69.4 x 8.2 mm and 143 grams of weight) so it is relatively easy to use even with one hand. The fingerprint reader on the back is anachronistic but easy to reach. The 3,140 mAh battery is definitely at the limit, even if you will have no problem reaching 5-6 hours of screen on. Beware of the busiest days, when a quick recharge may be required to get to the evening. A single 12-megapixel 9f / 1.7 rear camera) might seem like a small thing, but once again the Google Camera works the magic and allows you to get great shots in any light condition. Too bad for the absence of additional sensors, an ultra wide angle would have been useful.
Go to: Google Pixel 4a review
Other offers
Google Pixel 4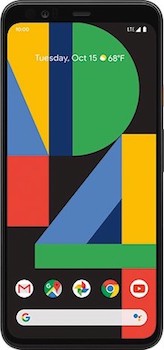 Like its big brother, the Google Pixel 4 also launched in the fall of 2019, hitting the market on October 24th. The presence of a 5.7-inch screen made it possible to contain dimensions (147.1 x 68.8 x 8.2 mm) and weight (162 grams) to the advantage of ergonomics; in the front part the decidedly bulky upper frame stands out. The battery of only 2800 mAh represents the true Achilles heel and almost always requires an additional charge to arrive in the evening, unless you pay close attention to consumption. The photographic sector is impeccable as always, with the main sensor from 12 megapixel (f / 1.7) helped by a 2x zoom from 16 megapixel (f / 2.4). The software once again works wonders and somehow compensates for the absence of a wide angle, with excellent results in any conditions of use, especially when light starts to run out.
Other offers
Google Pixel 5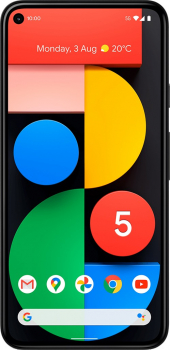 Google Pixel 5 has been on sale since mid-October 2020 but not in Italy. If you want it, you have to go to European markets, such as France or Germany, from where it can be purchased from major online retailers. Incredibly compact, despite the 6-inch screen: it measures just 144.7 x 70.4 x 8 millimeters and weighs just 151 grams. Handy, easy to use even with one hand, the dream of those who love compact devices. The battery, which has always been the Pixel's Achilles heel, is positively surprising. The 4,080 mAh unit allows you to always arrive in the evening even on the most demanding days, but with some attention you can achieve excellent results. Two rear camera sensors: the main 12 megapixel (f / 1.7) and a 16 megapixel ultra wide angle (FoV 106 degrees). Impeccable as always the photos, thanks above all to the software, which occasionally fails, especially with regard to selfies. Nothing that can't be fixed with software updates.
Go to: Google Pixel 5 review
Other offers
Google Pixel 6
Other offers
So this is our guide to best Google smartphones updated to December 2021. If you are not completely convinced or if you want to know other alternatives, below you will find the link to some of the guides we have created, dedicated to other manufacturers and the best available on the market.