System applications pre-installed on smartphones are not always able to offer a truly complete user experience and with this article we are going to list five of the best Android applications to use on smartphones for this month.
The ones we will talk about as we continue reading are free basic while others offer the possibility to purchase versions pro (for a fee) in order to take full advantage of all the features.
Best apps of July 2020 on video
1. Translator
Translator is a free application developed by Microsoft, simple to use and full of useful ready-to-use features.
It allows us to translate sentences or entire paragraphs into any language, not only by typing from the keyboard but also using voice dictation. This means that if you have a conversation with a foreign person, you can instantly translate what they are saying.
The peculiarity of this app is have on board a quick phrasebook thanks to which you can view some of the most frequent phrases used in case of need and quickly translate them into all the languages ​​of the world: for example to get directions, to request accommodation, to go to a restaurant, to solve emergency cases and many other situations that may arise during a stay abroad or in particular situations.
Translator we recommend it to those who are not accustomed to foreign languages ​​but who, if necessary, do not want to be caught unprepared or risk not being understood. Thanks to it, when talking to foreign people you will have less fear!
2. Life
It is no coincidence that this application is called Life: his goal is to create captivating videos that we will be able to review in the future in memory of that particular past day.
Instagram stories are usually used to create this content but thanks to Life we ​​could take advantage of a few more features for make the Instagram story more engaging. Basically it is an application of editing of videos recorded through the smartphone. It is very easy to use and the various functions are clearly visible and intuitive for a smooth assembly.
If you are not an expert in video editing you can use video template to take advantage of the predefined effects to be included in the videos you want to create; after applying the final touches, you can then continue with the export of the final file.
However, if you decide to switch to the paid version, all the hidden features of the app will be made available to you, useful for creating more elaborate content such as: intro for YouTube videos, vlogs, Tik Tok videos and much more.
3. ColoRs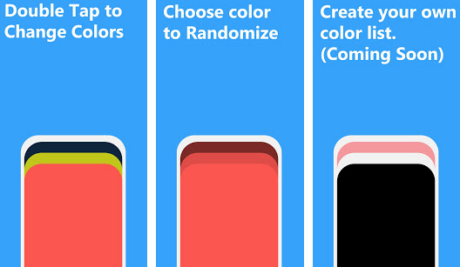 How many times have we happened to want to change the background image of the smartphone without, however, having a precise and decisive idea of ​​which one wallpaper to choose… in this regard it helps us Colors which allows you to have most of the solid colors as a background.
The interesting aspect is that we don't have to worry about looking for a photo or a solid color from the phone gallery to be able to change the background, since with Colors it will be enough to double tap on the screen for this to happen.
We have thought of this application for minimalist people and unwilling to change phone wallpaper with too many steps.
4. Smash: file transfer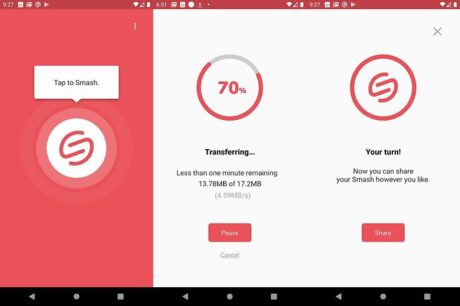 Smash is one of the best free applications that we offer in this selection. It allows us to transfer files, photos, videos, documents without limits of size or formats via the internet. It can be ideal for sharing large multimedia content.
The operating principle is very simple: you need to enter the application and choose the files to share. Then Smash will create a sharing link and through it all the people who want to receive the material will have the possibility to download the content from the generated URL without loss of detail.
The app is available for free from the Play Store as well as all the applications we told you about previously.

5. Acture
The fifth and final application in our July 2020 selection is Acture. Unlike the other apps seen so far, it does not have any details feature, Rather it helps us find a real and valid reason to unlock and use the phone.
The smartphone is among the tools most used daily by a large number of people and Acture can help to "detoxify" a little, inviting us to use the phone only when we really need it by making a message appear popup each time the smartphone is unlocked.
The interesting aspect is that after a certain period of time of using the phone, Acture performs a data analysis and then shows us the specific performance and helps us understand how to improve in the following period.
In conclusion
These were our top five apps for July 2020. Tell us your experience in the comments box: if you already knew them or how you are. If you missed the previous videos / articles in the column, we invite you to retrieve them at this link in order to find further useful apps worth downloading on your smartphone.