The time for CES 2022 has finally come, however this year the COVID-19 pandemic with infections on the rise has pushed numerous big names to a virtual participation (in whole or in part), this is the case of Google, which has found a way to touch on some very interesting topics for the future of the Android operating system and beyond.
Google promises commitment to the Android ecosystem
The starting point of Erik Kay, Vice President of Multi-Device Experiences, was remembering that «Android was designed for everyone, for anywhere in the world and to offer people a wider choice of devices, whether by design, functionality or overall value. Over the years, we've evolved Android to support more devices in everyday life, such as watches, tablets, TVs, and even cars. In addition to Android, at Google we also deal with laptops, headphones, speakers, smart home devices and much more".
In light of this, Google took the opportunity of the CES 2022 to renew its commitment to simplify the everyday life of users, starting from the configuration of a new device and arriving at a better compatibility between the devices and a tighter interconnection of theAndroid ecosystem. A commitment that is more than necessary in light of current trends: if in 2019 there were on average 11 connected devices per household, in 2021 the total increased to 25 (they are data referring to the USA).
Fast Pair and quick configuration of Chromebooks
Google has already bet on the function in the past Fast pair – users have exploited it over 100 million times – and intends to do it much more in the future to simplify the configuration of new devices through "pairing assistance for multiple devices".
The function Quick coupling (Fast pair) brings the enormous advantages of making the complementary app immediately available for installation and transferring the Google credentials. Thanks to the growing number of partnerships, Big G intends to go beyond audio connectivity with wearable devices, headphones, speakers and cars to also reach TVs and smart home devices.
THE early progress will be seen in the next few weeks, when, by activating new headphones via Quick Pairing, they will be automatically detected by the Chromebook user and associated with a single click.
Furthermore, i Chromebook latest generation will allow you to use the Android smartphone for one quick setup, so you have immediate access to Chrome OS saved information (Google credentials, Wi-Fi passwords, etc.).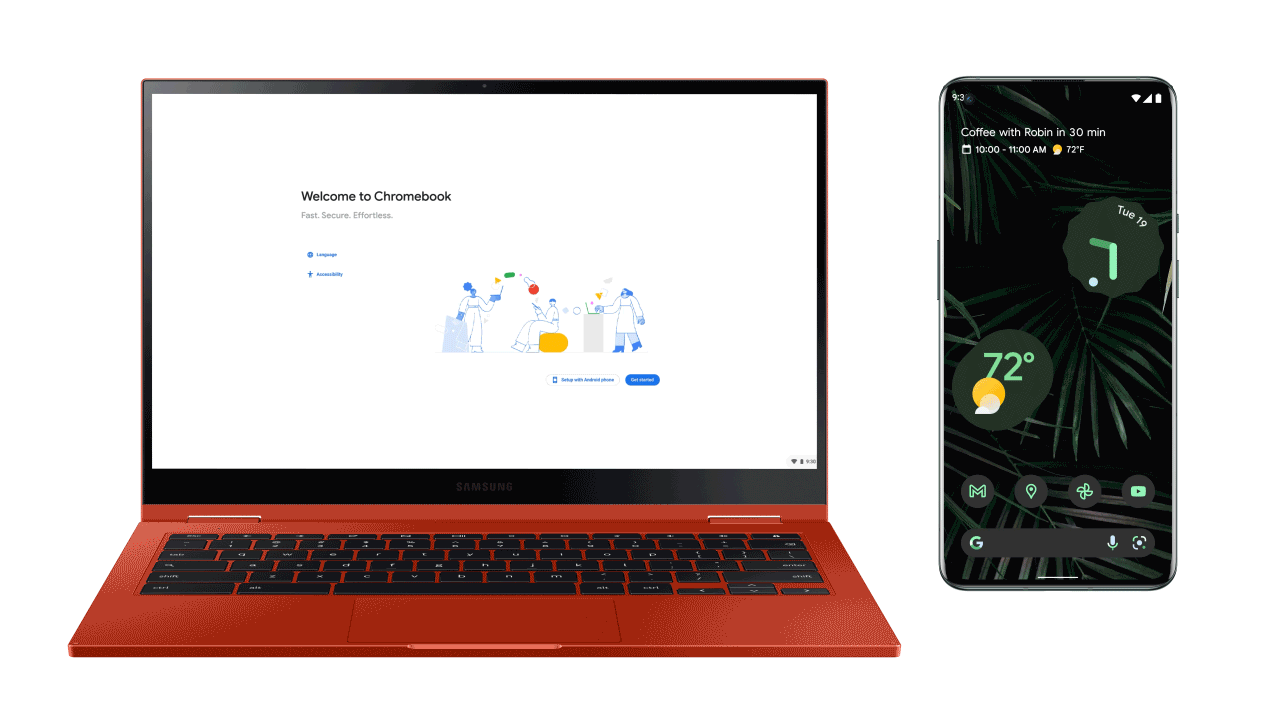 Looking further ahead, the ability to configure headphones based on the volume required by watching content on Google TV / Android TV will be introduced in the coming months and, thanks to Android's support for Matter, Quick Pairing will allow you to connect your devices on the fly. smart home with Matter to the network, Google Home and other apps with just a few clicks.

Locking / unlocking of various devices and car keys
If at the moment it is possible to use the Android smartphone to quickly unlock the Chromebook, in Mountain View they want to go further: in the coming months, Wear OS smartwatches will also allow you to immediately unlock Chromebooks, paired Android smartphones and tablets.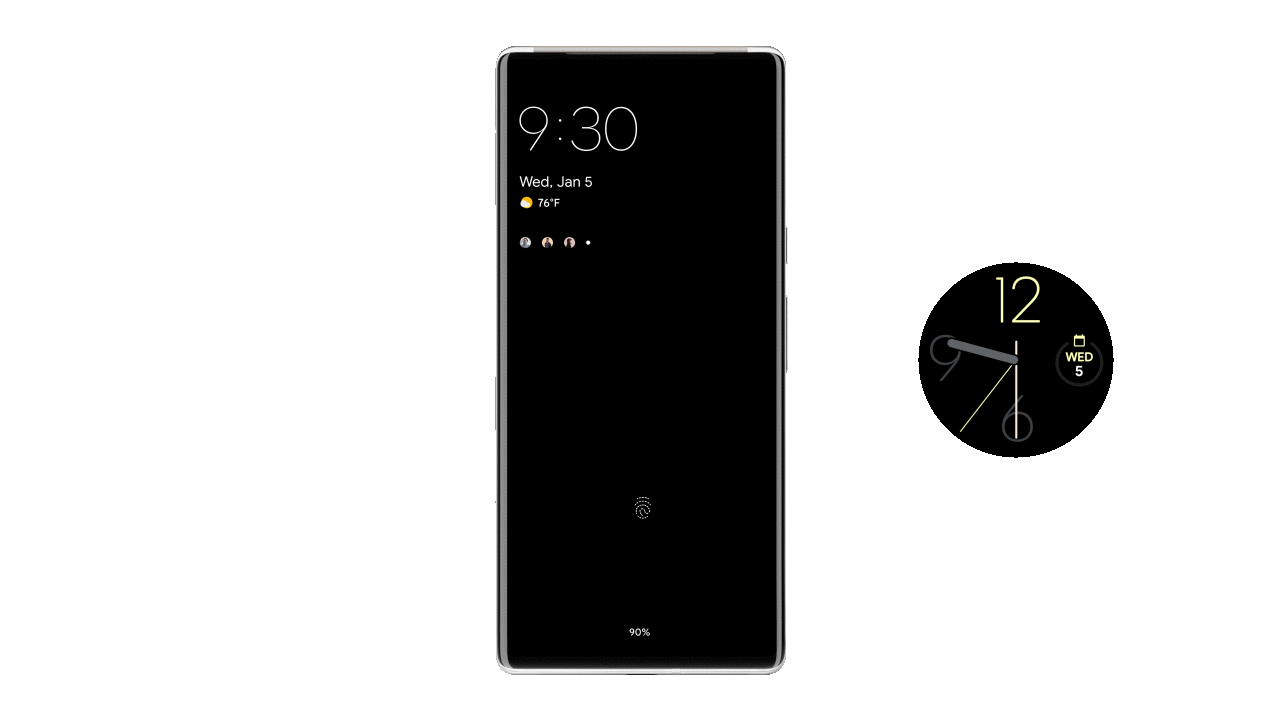 Furthermore, already now compatible Pixel and Samsung smartphones they can be used as a digital car key to lock, unlock and even start supported BMW cars. From the second half of 2022 further simplifications will arrive: smartphones with UWB support will not even have to be taken out of the pocket; it will be possible to remotely and securely share car keys with friends and relatives in case of need. Work is underway to make the feature available for more Android smartphones and cars.
Remaining in the automotive field, Google then intends to push further on operations that can be performed remotely: already now it is possible to close the garage via voice commands while in the car, control lights, thermostat and so on, but soon it will be possible to use voice commands even before leaving the house, for example by asking Google Assistant to heat / refresh or open / close the car and report information on all devices that support it. The first vehicles to receive support for these functions will be Volvo Cars, but others will follow.

Switch between devices: productivity and entertainment
According to Google, "the devices should know instinctively which of these you want to use and when ". For this reason, work is underway on a technology dedicated to Bluetooth headphones to allow the automatic audio switching between multiple devices. Think of the example of the headphones worn to watch a movie on the Android tablet, in case of an incoming call, "the movie will pause and the audio will automatically switch from the headphones to the Android phone, and then return to the movie once the call is over".
Alongside this novelty that could prove to be extremely useful in everyday life, in the coming months Google has also promised the introduction of thespatial audio for supported headphones.

As for the management and sharing of content, currently Android smartphones can take advantage of integrated Chromecast to share video on display and TV and audio on some speakers (Nest and not); in the coming months, support will be extended to devices from other brands, starting with smart speaker and from the soundbars of Bose.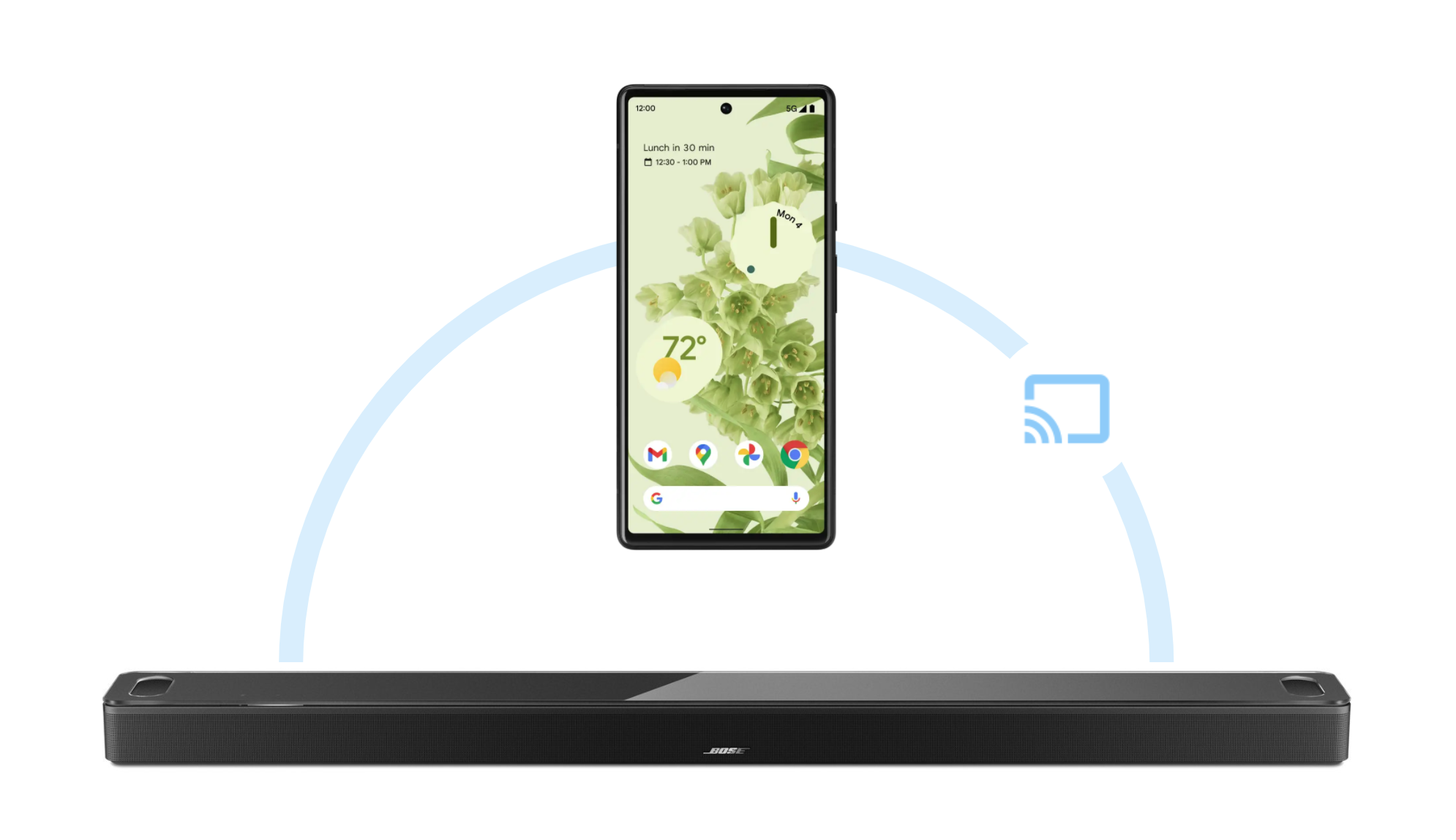 In the second half of 2022, then, news will arrive for Phone Hub for Chromebooks (here is the our guide to the best Chromebooks). Now you can view and reply to notifications and chats, turn Do Not Disturb on and off, find your phone and continue browsing recent Chrome tabs. In the coming months it will be possible access chat apps of the Android smartphone directly from the Chromebook without the need to install them; adding the camera roll will also give you access to recent photos and videos with a single click.

Windows and Android increasingly together
The relationship between Windows And Android has clearly improved in recent times, just think of the support of the robot apps on Windows 11.
We recently talked to you about how this approach will also affect games, but productivity will not be neglected either. Google gave the example of how, by connecting the Android smartphone to the Windows PC using Quick coupling, you will have access to various advantages, such as quick configuration of Bluetooth accessories, SMS synchronization, file sharing through Nearby Sharing. Already in the second half of 2022 these functions will be made available on a selection of models thanks to the work in progress with ASUS, Acer, HP And Intel.
To not miss the news and announcements coming from CES 2022 in Las Vegas, add the to your favorites our dedicated page.